Design Your Own Flyer;
Start to Finish in 15 Minutes

Design Your Own Flyer. Flyers are a very effective and cost efficient way to reach a large number of people, whether you're promoting a business,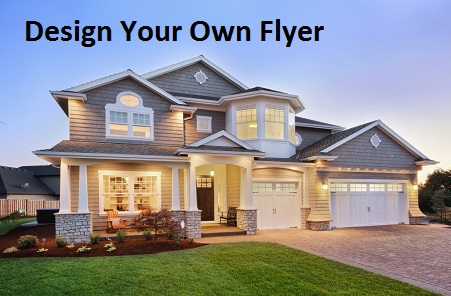 announcing an open house event, or producing a musical concert.  And the impact of a good flyer can be huge - the more visually appealing the flyer, the more likely you'll be in achieving the results you desire.
While paying a graphic artist to design a flyer for you is certainly one option to consider, many people are bypassing professionals and going straight to designing their online. 
Why Not Design Your Own?

Flyer templates and design software are plentiful, free to low cost to use/buy, and in many instances easy and intuitive to use.
And you can design your own from start to finish in 5 minutes. No, I'm not talking about something I think, but rather something I know.
In fact, I've designed But in all fairness the process was abbreviated because I had predetermined the three most important aspects of my flyer;
what I wanted to say 
who my targeted audience was
the time frames related to my message
what my most desired response was, and
an attention grabbing headline.  

Here's a quick look at how it all came together. I was living in North Central Florida when I accepted a job offer in South Florida. I needed to rent or sell my home in order to make the move. So, I designed and printed flyers to advertise it.
My message was "buy a home for the same as rent."
My targeted audience was renters tired of paying rent who wanted to own their own homes.
I didn't give a time frame but I instilled a sense of urgency by declaring "this deal won't last long," and it didn't.
My desired response was to have them call to make an appointment to see the house...and they did.
And, finally, my headline was "Lease Option this well maintained 3 Bedroom, 2 Bath Home. Great neighborhood and schools. First come, first served."
I started with a free flyer template, modified it a bit and in minutes had an ad flyer that generated calls for appointments to see the house. I was blessed and lease-optioned it to the second person who saw it and could just as easily have lease-optioned it to three other people had that deal fallen through.
You, too, can create a free printable flyer from free templates and be done within a matter of minutes, too. It's easy when you start with a template that you can quickly modify to reflect the look and feel you want.
If you want eye catching flyers that are simple to make, yet is missing what I'll call the "wow factor" then I'll submit that your flyer isn't ready for print and distribution yet.  Work it until you get it and when you have it you'll know it!


Other Pages You Might Like

More About How To Design Your Own Flyer 
Create A Free Printable Flyer
Flyer Templates 


Home Page > Real Estate Flyers >> Design Your Own Flyer