Expired Listing System

Build Income With an Expired Listing System. If you need listings, the quickest and easiest way to ramp up your inventory is to solicit properties that have expired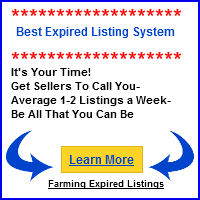 Generally the property owner has heard lots of promises, and with little or no results.
This is a great opportunity to demonstrate your unique selling advantages with cutting edge marketing and strong communication skills.
Another standard presentation isn't going to charm a disgruntled seller, who is ready for results.Read more...    

How to Make Six Figures Prospecting Expired Listings. Expireds provide a steady stream of new leads of people to contact for listing appointments. There are usually a few very heavy days in each month. You will need to set your schedule to take advantage of the heavy days. The end of the month is usually one of the heaviest times for expired listings; up to 25% of the expired listings for the month may come up on a heavy day. Read more...

A Note On Farming Expireds - Whether you've been a real estate agent for twenty years or just starting out, you already know that the most important part of being an agent is marketing. Marketing for a real estate agent takes on two different forms: active and passive. Passive marketing covers everything from how you present yourself in public to talking to friends and colleagues about your real estate business. Active marketing refers basically to...Read more...
Expired Listing System - This  System shows real estate agents how to convert expired listings to new ones - step by step. The author average 2 plus listings a week using it. Others are having success with it, too.  Ready for something simple, easy and yet wildly effecive?  Then try this system.  Read more...

See More Expired Listings Articles