First Time Home Buyer Program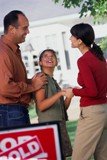 A quick Internet search for "First Time Home Buyer Program" reveals that there are a large number of cities across the United States offering programs for first time home buyers. Many are creating fist time home buyer programs and focusing on
increasing home ownership opportunities

revitalizing deteriorating inner city neighborhoods, and

offering special housing incentives for teachers, nurses and law enforcement officers to move into targeted areas
And they're doing it in creative and unconventional ways, like through Down Payment Assistance Programs (DPA) for example. DPAs provide qualified, first-time home buyers with zero interest loans.  Some will even throw in cash money to assist in the home buying process.
Additionally, some first time home buyer programs even let buyers earn credit for their physical labor by helping to build their own homes. This is called "sweat equity" and is used a lot in Habitat for Humanity homes in lieu of cash money as down payments.  
Fnally, another program is the "New Home Owner Programs". In this program first time home buyers enroll in classes to learn how to be responsible, self-empowered home owners.
They learn how to recycle trash, take care of their lawns, make minor repairs, maintain the outside of their homes, maintain the inside of their homes, service their heating and a/c units, and the like. This program is also called the SHIP Program.
Summarily, First Time Home Buyer Programs offer wonderful opportunities for renters to become homeowners and with the number of foreclosures on the market today there are some great deals to be had.
---
Click here for more home buying articles.
Exit First Time Home Buyer Program and visit Real Estate Marketing Talk Home Page