Be Safe! Practice Social Distancing...
Flipping Confidential: The Secrets of Renovating Property for Profit in Any Market by Kristen Kemp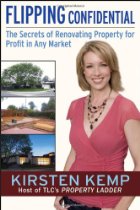 Written by the host of TLC's Property Ladder, Kristen Kemp, a veteran realtor, developer, property restorer, and owner of a design company gives her expert advice of flipping houses. Customer reviews rave about Kemp's direction in the real estate business. Don't just learn how to flip houses, learn how to flip them right!
Return to Flipping Real Estate.