Free Real Estate Marketing Letter

Free Real Estate Marketing Letter. As you can imagine, a prewritten real estate letter can help you save time by freeing you up to focus on revenue generating activities.
A good letter campaign can put you money ahead, especially if you are using proven, time tested ones.
This free real estate marketing letter sample is for farming absentee property owners. It is one of eleven letters that comes with the farming expired listings listing system.
---
September 23, 2005
Mr. & Mrs. John Smith
Dear Mr. & Mrs. Smith:
It has come to my attention that you are the owners of real estate in Boomer County , MS . My reason for writing is to acquaint you with my services, which could quite possibly save you a lot of money and anxiety as an Absentee Property Owner!
Perry Realty is one of the largest Real Estate Companies in Boomerville, MS . We have three offices strategically located to afford maximum service and convenience to both our BUYERS and SELLERS. We also have 52 offices throughout Mississippi , and our share of the market place grows every year.
The benefits of allowing me to handle your property are many. However, the most important is that I am a full time professional, and have the tools and knowledge to assist you with your needs, thereby relieving you of a potentially stressful situation.
Specifically, I can help find buyers, secure tenants for your vacant properties and/or manage your rental properties for you! Our full time Property Management Division is very efficient and fully computerized, as is the sales department.
In closing, please call when I can be of service to you, and I look forward to working with you as a preferred customer.
Sincerely,
Your Name
This is not a solicitation for the listing of your property if it is already listed for sale with a Realtor.
© Farming Expired Listings, All Rights Reserved
---
This free real estate marketing letter sample is just that; a sample; but the point of it is this! Making prewritten real estate marketing letters a part of your overall marketing plan frees you up up to grow your real estate business.
So here's the question? Would you rather be sending out letters like this one, or sitting in front of a blank computer screen hammering out letters from scratch? I think you know what I'd do.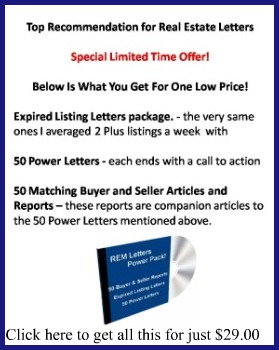 Exite Free Real Estate Marketing Letters and Visit Main Page For Real Estate Letter for more letter marketing campaign ideas.