Be Safe! Practice Social Distancing...
Free Website Content; How To Get It Fast and Easy

Free Website Content is bested only by lots of inexpensive pre-written content. Everything you need to know to Build a Realtor

Website is available on the Internet, much of it free to little cost...including website content! In fact, some of the best real estate information I've read has been free. 
And although locating quality free content for publication and turning it into HTML to publish on your web site each week involves a great deal of time and effort, it can be worth the effort.
You can find Free Website Content to use on your own website or newsletter, no matter what your website theme or business is, in Article Directories.  And most directories will allow you to add your own articles to their database, too - allowing you to also promote your business to all their visitors and subscribers.
Simply stated, an Article Directory is a database of information which is usually amassed by publishers accepting and serving articles, in exchange for a link.
They are usually multi-themed and range from a few topics to tens of thousands. You could think of an article directory as a library; authors deliver content to it and anyone who requires such content can go there to get it. 
There are too many directories for me to keep up with these days, but you can easily find the most popular ones by keyword searching "article directories" on your favorite search engine.  JHaving said that, below are several ones that I frequently visit to find Free Website Content for my websites. 
http://www.searchwarp.com
http://www.ezinearticles.com 
http://www.goarticles.com
Now, admittedly, utilizing Free Content is a good thing, but even better that is writing your own articles; or at least buying Pre-written Real Estate Web Site Content. 
If you're trying to build an online business the best way to do that is to write your own articles and submit them for publication to these same Article Directories.
The more content you have on your website and in article directories the sooner you can generate more visitors, convert warm prospects to hot leads, get more listings and make more sales.
A big benefit of using Pre-written Real Web Site Content, free or otherwise, is that it can be uploaded to your site in a few minutes.  And the sooner you can get it on your site the sooner you can generate a steady stream of warm, responsive prospects month after month.  Let's face it - you need leads and the more you have the more business you'll generate.
Using Free Website Content is a great real estate marketing idea. You can easily find content that can position you as an expert real estate professional while plugging your real estate business. Plus, it's also an inexpensive way to increase your website ranking.
Websites with high search engine rankings often times have hundreds of pages of good, website content.  And search engines love great content.  Of course you can slow build a website, but with so much free information available there's no reason why you can't be adding dozens of pages to your website every week . 
Summarily, if you have trouble deciding what you want to write about and even writing it don't worry about it.  You can use Free Website Content to provide interesting information to your website visitors.  You can also find Pre-written Web Site Content ready to upload to your site in a matter of minutes!  Both are good real estate marketing strategies.
---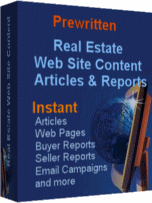 Click here for details about this great content!
Good real estate web site design includes rich content, and lots of it. Optimized keyword pages can help you get your web site indexed by search engines and key to that is the uniqueness and quality of your content. Well written, unique content will get you noticed by human visitors and search engine spiders alike. Check out these incredible pre-written reports ready for instant upload to your site!
Home Page > Real Estate Web Site Content >> Free Website Content