Home Selling Resources; Sell Yourself And Save Thousands In Realtor Fees

Home Selling Resources - Selling your home yourself can be very profitable if you have the time, patience and knowlege to do it. It's an idea that can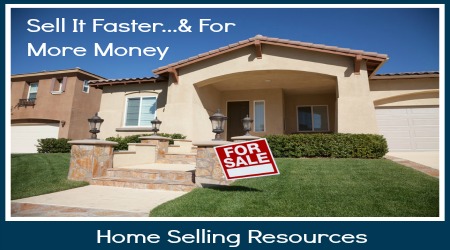 result in thousands of saved dollars in Realtor fees.
You can begin learning about how to sell it yourself through the articles and resources below even before you put up a "For Sale" sign, or run your very first ad.
You can also buy the best "Sell It Yourself" Instruction Course for a quick start on how to sell your home yourself and save thousands of dollars in the process.  Interested?  
  Click Here - For Sale By Owner Help! Sell It Yourself and Save BIG $$$$$    
Selling FSBO- Selling your home alone can make sense, but if you're like most sellers you may have more desire to sell yourself and save the sales commission than you do knowledge. Read this article for some free advice.

Closing Costs - Lenders fees vary from state to state, but in sme stares ae required to give you a written good faith estimate of how much money you'll need at closing.
Curb Appeal - the appearance of your home is like a major plus for people driving through your neighborhood or who see your house in a real estate for-sale photo. By putting in a little extra effort, you can improve your home's
Discount Points - Discount fees are essentially fees you pay to your financial lender at the time of closing to secure a lower interest rate on your home loan. Each 'discount point' costs the home buyer one percent of the loan amount
Easements, Right of Ways & Restrictive Covenants - Easements can be beneficial to a property as well as significantly affecting the value of the property. All easements should be included and described in your deed and
Escrow - Mortgage escrow accounts are made to protect the homeowner by making sure that all insurance premiums and property taxes are paid in a timely manner. Escrow guarantees that there will always be enough money
Home Warranties - A warranty on your home usually covers all of your home's major mechanical systems, including hot tubs, pools, wells, septic tanks and all of your appliances. Some policies even cover the roof of your home and
When Your House Does Not Sell - Just as there are many things you can do to improve your chances of selling your house at a great price, there is an equal number of things that will drive away potential buyers and leave you
More Home Selling Articles

Increase The Value of Your Home - To most people, their home is their largest investment and they would like to keep it in prime condition. Although the price of your home is mostly determined by the current market conditions 
Location Location Location - A ten million dollar mansion isn't worth a dime if it's sitting next to a toxic waste dump.This example is far-fetched and outrageous, but it makes the point that finding the right location is certainly as

Real Estate Bubble - Homeowners who buy in a real estate bubble situation risk putting themselves in an undesirable financial situation, particularly if they have very low equity in their home. Equity is how much of the home you own,
Resale Value - There are several other factors that will affect the re-sale potential of your home. First among these is location. You've probably seen house-for-sale advertisements boasting about a home's location, and it's true,

Step By Step Closing Procedures - The value and importance of a good realtor is quickly appreciated in the closing meeting. Many of the processes involved are readily explained by a caring and competent professional before

Title Insurance     
Why Great Homes Do Not Sell   
Home Buyers   
See Real Estate Article Directory  

---
Home Page > Home Selling Resources