Make a Flyer; It's an Easy Way to Generate More Business
Make a Flyer and get generate some new business. It sounds simple...and it is! It's also a proven marketing strategy. Even if you're giving away something
for free delivering the offer via flyer marketing is an effective way to get the most desired response from your targeted audience.
And key to maximizing the results is timely and effective follow up,
as most people won't commit to your product or service until they've been exposed to your marketing messages 4-7 times. So, it's to your advantage to develop an opt in list.  
Why? Because an opt-in list allows you to legally follow up with your subscribers and a flyer is an effective way to encourage them to sign up.  When they do they know that they'll be receiving updates and news from you via direct mail and/or e-mail.
Personally, I prefer email because I don't have any printing or mailing costs, but I've also generated a lot of leads and sales via direct marketing campaigns.
Here are some of my favorite my favorite resources for designing, making and mailing flyers.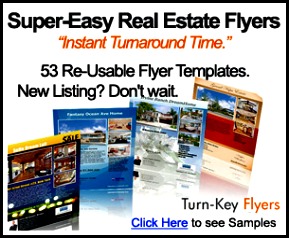 create a free printable flyer
real estate flyer
So, make a flyer and increase your business by developing an opt in list of subscribers eager to hear from you about the products and services specific to their interests.
Home Page
>
Real Estate Flyers
>> Make a Flyer