Make Millions in Real Estate—One House at a Time by Michael Corbett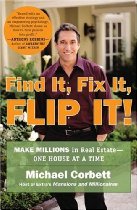 Find It, Fix It, FLIP IT!
Get strategies, tips, techniques and expert advice from Michael Corbett, host of tv Extra's Mansions and Millionaires. Corbett shares his knowledge of the flipping game from start to finish. Find out how to find the right house, how to fund the renovations, and then how and when to sell the property. If you're looking for a complete book to help you do flipping professionally and confidently, look no further.
Return to Flipping Real Estate.