Making Flyers; Give Yourself a Raise
Making Flyers used to be a complicated and fairly expensive process, but with computers and the Internet you can do it for very little cost.
In some instances the only cost is for the paper and ink you use, but if you have already have a printer you most likely have paper and ink, too.
If you were recently downsized, rightsized or outsized you may want to start thinking about going into business for yourself. Why? Because the rewards are many and include
you can be your own boss
you can set the hours that you want to work, or not
you can start and be in business today, with zero money
you can earn more money than your boss paid you
you can grow your business as fast or slow as you want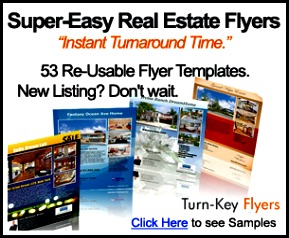 Of course there's always the possibility of failure, but failure is just another opportunity to succeed. Expect to fail - not too many succeed the first time they go into business for themselves, but don't plan on failing.
What's important when you fail is what you do afterward, and successful business people have a way of picking themselves up and having another go at it.
My son went into business by making some free business flyers. That's right, he had an idea, printed and distributed some flyers to launch it and began making money in a week's time. This is how he did it

If you're broke and need a job, or just want to earn extra money,too you should consider making flyers. It worked for me and my son and it might work for you, too.
Home Page > Real Estate Flyers >> Marking Flyers