Marketing Your Self In Real Estate; Increase Earnings Through More Effective Marketing
Effectively Marketing Your Self In Real Estate may be an agent's biggest challenge. Whether you're newly licensed or a seasoned pro, effective marketing is something you'll constantly have to work at it to get right!
The good news is that there's an abundance of resources available for learning how to be a successful marketer. In fact, they are so plentiful that the sheer volume of options is overwhelming.
So, what do you do? Where do you start? How do you begin? What tools do you need? What seminars should you attend? What books should you read?
These are all good questions, as the diversity of tips, tools, strategies, ideas and resources are so great that agents are sometimes unable to put them into a workable perspective. But when this happens to me I simplify things as much as I can by asking two questions:
what do I want to accomplish, and

what's the best way to do it?"
Perhaps you can benefit from the same approach. So, here we go!
What do you want to accomplish?
Since we're talking about effectively marketing your self in real estate you probably want to
gain credibility as an agent capable of assisting your clients with all their real estate needs, and

make enough money to live the lifestyle you desire
But what else do you want? Maybe it's to sell one house a week, get 4 listings every month, earn extra money as a part time agent, or transition into a full time career.
Once you've clarified your goals you'll be ready to move on to how to get it done, which requires you to assess the tools and resources needed to be successful.
So, what's the best way to get the job done?
First, you should decide what interests you most as a real estate professional, establish yourself as a specialist in that area, then equip yourself with the necessary tools and strategies needed to get a piece of that market.
For example, if you're interested in real estate development you should learn as much about land development it as you can, then focus your marketing efforts on that niche market. Prominent players will include city and county planners, construction contractors, commercial lenders, fortune 500 type companies, your local chamber of commerce, rotary clubs, etc. You must go where the players go and do what they do of if you are to be a serious contender.
On the other hand, if you're more interested in helping first time home buyers purchase homes you'll need an entirely different approach. Instead of commercial entities you'll be targeting renters in apartment complexes, rental properties and condos. You'll do this by mailing flyers, hosting first time home buyer seminars, giving away real estate marketing reports about how easy it is to buy a first home, financing alternatives, different types of mortgages, etc.
Second, you need to equip yourself with the proper knowledge, tools and resources. For example, let's look at marketing to first time buyers again. To really plug into the market you need to think like a renter. Go where they go, do what they do, and market accordingly.
Specifically, place flyers in Laundromats, leave business cards in singles clubs. But most importantly include an email marketing campaign that uses auto responders, or drip mail campaigns . Why? Because the renters market is huge, and the more you can automate your marketing efforts the more people you'll be able to target.
Sequential auto responders are email mailing systems that automatically captures the names and contact information of prospects who respond to your solicitations, and then delivers requested information to them via email 24 hours a day, 7 days a week and 365 days a year. And the nicest thing about them is that prospects can sign up and/or delete themselves from your auto responders automatically.
The auto responder that I use can be found here. I've tried several, but found this one to be to my liking. Give it a free trial run and see what you think.
If you decide purchase the auto responder, and order through this link I'll give you 50 marketing reports to target buyers, sellers and investors. All you have to do is call or email me to confirm your order. You can see the titles here!
Following are some additional resources worth having that will add to your bottom line:
For Sale By Owner Systems. Interested in marketing to FSBOs? Then read a book, or two on he subject to get an appreciation for how successful FSBO marketers do it. Then, adapt the strategies you learn about to reflect your marketing style strategy.
Expired Listing Systems. Of all the techniques and strategies I used I personally liked converting expired listings better than anything else I did. There was something about having owners calling me and getting 1-2 listings a week that gave me a rush that felt almost as good as I did when my contracts closed.
Marketing Reports. I love using marketing reports in auto responders. Once you set up your auto responders you never have to do anything else with them. They take over and do all of the grunt work of advertising you and your services, automatically.
Pre-written Content. Using pre-written copy is a great way of saving time and maximizing your resources. Good copy can be used as letters, articles, reports and web site pages.
Toll Free 800 Telephone Numbers. A toll free 800 # brand makes it easy for potential customers to reach you. Some services claim that once you begin using them you'll see the difference with more calls, leads and sales.
Real Estate Marketing Flyers. Flyers are a great way to quickly build your real estate business and brand. They are versatile, relatively inexpensive and can be used in a variety of ways and for almost any purpose. Click here to read more!
Post Cards. Marketing with post cards is a great idea because you can cast a wide net and reach a lot of people for a little of nothing. And as you know, or will soon learn, repeat contact with prospects is key to identity branding. You want buyers and sellers to think of you when they're ready to make a real estate transaction; which you can accomplish easier when you have repeated
In the end, effectively marketing your self in real estate comes down to making a plan and sticking to it, and using the right tools and strategies. But consistency is vital. If your commitment is sporadic you'll get spotty and inconsistent results. But if you are diligent and work your plan a little bit every day the results may just surprise you.
---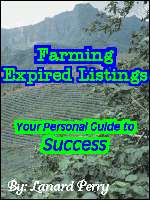 View Full Details!

The most successful real estate agents have lots of listings, and although getting them is easier said than done, it's relatively easy to do - at least with the right system it is! One system that works to near perfection is the Farming Expired Listings System, with letters. Learn how it can boost your business, too!
---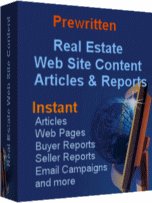 View Full Details!

Prewritten Real Estate Marketing Reports are fast, affordable and content rich! The use of them is one of the fastest, most effective ways to provide useful information to buyers, sellers, renters, etc. Convert more prospects to customers by providing useful information that positions you as the knowledgeable professional that you are. Also, when optimized as keyword web site pages they can pre-sell you and the goods and services you provide. And it should go without saying the more content rich keyword pages you have the more leads and sales your web site will generate!

---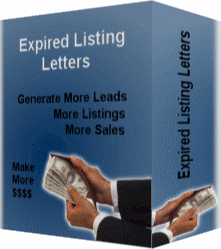 View Full Details!

Expired Listings Letters can help you get more prospects, sign up more listings and make more sales. These particular ones have helped some agents generate 2 or more listings a week, and in some instances without cold calling or cutting fees just to get the listings! Some say Expired Listings are easy to get, as the Owners are already Realtor friendly and more motivated to sell than before.
marketing reports, web site content, letters
average 1 or more listings a week
email marketing auto responder
Exit Marketing Your Self In Real Estate and visit Real Estate Marketing Talk Home Page for more Real Estate Marketing Ideas.