Order Business Cards Online

You can Order Business Cards Online and get amazing quality and quick turnaround.  And you'll find an abundance of sights offering free quotes,

samples and designs; full color printing on both sides;
free UV coating;
high quality paper and huge discounts for bulk orders. 
In fact, the most difficult part of designing your business cards online will be deciding which company you want to order from. 
Rest assured though…it's hard to go wrong with companies like Vista Print, Overnight Print, Zazzle, Staples and Moo.
Five Reasons to Order Business Cards Online

There are five reasons to order your business cards on line rather than going to a local print shop.  Here they are in no order of importance:
It's cost effective

It saves time

You get 24/7 around the clock service


You get professional results without having to pay for it and ...

The service is fast.

Depending on the time of day it is you can go online and design and order some today and receive them tomorrow.  
And once you get  them you should start giving them away immediately, as often you can, whenever you can and wherever you can!

I use Vista Print.  They have great discounts and outstanding service.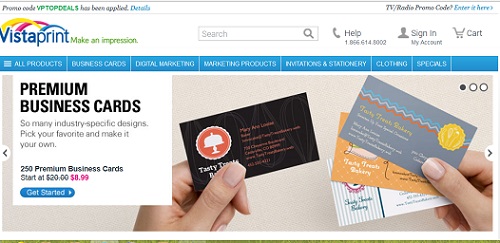 A Problem With Business Cards
Many people make the mistake of buying business cards and doing little if anything with them. They sit in the boxes they arrive in for months and keep more than they give away. 

Not only is that a waste of money (okay, so they don't cost much) but more importantly wasted opportunities to network and generate leads! Business cards are of zero benefit to anybody left unused in their boxes.  So, instead of hoarding them give them away.
Getting The Most of Business Cards

I produced a Christmas Concert Toy Drive last year and donated the toys to kids in the Gainesville (FL) Guardian Ad Litem Program; a program for abused and/or abandoned kids.
I ordered business cards online and gave away nearly 1,000 business cards in a month or so. The event was a success. Approximately 400 people attended and we collected lots of toys.

Instead of letting your business cards sit and gather dust put them to work for you. Place them on windshields in mall parking lots, table tops in dentists and doctors offices, checkout counters at the local grocery store, etc. 
Let me say it in a different way...wherever you go leave some business cards behind.

Closing
Summarily, turn every card into a potential lead generator.  Ordering 1,000 cards?  Then give away all of them to leverage 1,000 potential leads. The more you give away the more you'll get in return.  Here's more about Handing Out Business Cards.
Home Page > Business Card Template >> Order Business Cards Online