Real Estate Content For Website
Real Estate Content for Website Marketing.  When people visit your website most of them will leave within the first ten seconds of arriving, never to return again. I think of them as lost lead prospects.
They don't even take the time to leave you a name, number or email address, so you have no idea how to reach them again, let alone how to get them to come back and give you another chance.
This can be very frustrating, especially since you've taken the time, worked hard and spent big bucks on building a website to get them there in the first place. That's why quality real estate website content is important. It encourages visitors to stick around, and the more time they spend on your site the more real estate leads you'll generate.
Consequently, you need to give your visitors a reason to stick around, or better yet a reason to remember you and come back again ...giving you at least one more chance to convert them into paying customers.
Cultivating Repeat Visitors
But how do you do that? Well, there are techniques that you can use to ensure you that once you've invested the time, effort and money it takes to attract visitors that you can keep them around for a while...and even keep them coming back for more.
Everything Starts With lots of Content for Real Estate Website Marketing
The first thing you can do is offer them great content; specifically, real estate content focused on their real estate related needs and interests.  Great content gives them a reason to bookmark your site and come back again.
Newsletters
The next thing you can do is find a way to keep in touch with them. You can offer them a free ebook or a subscription to your newsletter in exchange for their email address so that you can send them gentile reminders that you exist. If you can capture their attention over an extended period of time then you will have a much better chance of converting them into paying customers.
Did you know that the average person must be exposed to an offer around seven times before they will do business with you?
Big companies know this. That's why when you are sitting in front of the TV munching on popcorn you will see the same commercials repeated over and over in the same time slot.

Sign up for my newsletter and see how I do it to get some ideas for yours.
Interactive Websites
One more thing you can do is make your real estate content for website marketing more interactive. Make it interesting and fun for them to stick around. Look at MySpace, for example. Go to the main page and snoop around. Not only do they provide a place for people to meet and get to know each other, they have polls, classifieds, forums, videos and more. All designed to get you to stick around and do something.
Now I'm not saying that you should try to compete with MySpace, but what you can do is take the time to design your web pages so that your visitors will want to click around for a while and get to know you. Give them something to do and a reason to come back.
Conclusion
The longer you can keep their attention the more times you can get them to come back the better for you and your business, but it all starts with good content.
Real Estate Content For Website Marketing Success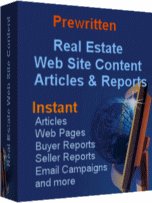 View Full Details!

Good real estate content for website marketing success includes rich content, and lots of it. Optimized keyword pages can help you get your web site indexed by search engines and key to that is the uniqueness and quality of your content. Well written, unique content will get you noticed by human visitors and search engine spiders alike. Check out these incredible pre-written reports ready for instant upload to your site!
Exit Real Estate Content For Website and visit Real Estate Marketing Talk Home Page!