Real Estate Flyer Articles
This Library of Real Estate Flyer Articles offers interesting and creative ways of using flyers to gain a competitive marketing advantage!  Here you'll discover proven, cost effective ways to generate more real estate leads.  And you do need leads...don't you? You also need effective Real Estate Flyers, like these...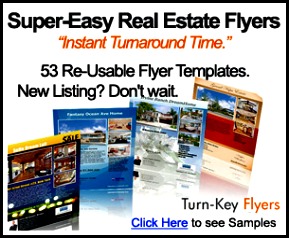 Click To Learn More About Them
Here Are The Articles
Real Estate Listing Flyer; Compose, Download and Distribute
- Are you sending flyers to other agents?  If not you should be.  Despite being a proven, successful marketing tool many agents do not use them as part of their marketing plan.  Go figure, as you can design, build and distribute flyers for relatively little cost while generating impressive results. 
Flyers for Real Estate; Lead Generation Ideas - The point of using flyers is to provide enough information to generate information, and then contact with you.  And they work, so it's a little baffling that few agents use them when most are aware of their effectiveness.  Are you using them yet?
Free Real Estate Flyer Software - This article includes 4 services that offer FREE Software.  Go online and in minutes you can have designed professional looking flyers from partially completed templates, or upload and use your own.  You'll find many possibilities for your real estate marketing needs.
Free Real Estate Marketing Flyer - Here are some really cool ideas for using flyers to generate leads...and they're all from Free Templates. Easily change layouts, font shapes and sizes, headlines and more.  You'll also learn how one flyer can result in 8-12 leads per flyer.
Free Real Estate Flyer Template - If you Google "Free Real Estate Flyer Template" and you'll get more results than you could hope to look up in a life time.  So, I've done it for you and offer up some of the best of the best.  interesting results.
Real Estate Advertising Flyer - Establish a brand in record time. Use flyers to announce and promote new listings, solicit more buyers and network with other realtors.  Although not as sexy as automated 800 call back systems they can be pretty darn effective and might turn out to be a fast start to becoming a Top Producer.
Real Estate Agent Flyer; This Is How To Do It - Got a listing that just won't sell?  Try promoting it with a flyer.  Make hundreds of copies and hand distribute them.  Place them on car windshields wherever people gather; sporting events, shopping malls, business parks, hospitals, parking garages, etc.  But should you not sell it you're likely to generate leads and sell other properties.  This is how William Bronchick did it.
Real Estate Agent Flyers; Turn A Stream Of Leads Into A Flood - Everyday across the United States thousands of people are interested in buying and selling real estate.  In many instances they are looking for an agent to help them out.  You can become a preferred agent by positioning yourself where they are.  Go where they go, advertise where they look and hand out flyers where they gather.  Learn how to turn a trickle of leads into a roaring flood.
Real Estate Brochures and Flyers - Real Estate Brochures and Flyers are simple, low tech marketing tools.  Once you've designed and built what you want they can be part of your ongoing marketing efforts for years to come. Take charge of a niche market, even if you're a new agent.
Real Estate Flyer Boxes. Flyer boxes come in every shape, size and material imaginable. From clear plastic to color metal you can find one that matches your needs and specifications.  And the advantage of using flyer boxes of course is that they can protect listing flyers and brochures from the elements.
Real Estate Agent Design - Eye  pleasing colors, fonts and designs.  Just point and click to design your own from pre-made templates, or upload and use your own originals made from scratch.