Real Estate Flyer Printing
Real Estate Flyer Printing. Flyers can create a compelling image of you, your company and its' products and services. A Flyer can make a listing as enticing as "eye candy". And we all know that a away to effect the sale of anything is to make it visually appealing.
Whatever your needs, from open house listings to home buyer and selling seminars, flyers might be just the right answer. And they're relatively easy to design and print yourself.
Have a listing that you want to promote? Create, design and print a flyer to market it. Then mail them to neighbors surrounding the listing, to your list of potential buyers and to real estate agents active in your area.
Need someone to print and mail them for you?  No, problem; there are several companies ready to fulfill your orders. Some offer over night delivery for only modest addon fees.
Lets explore your flyer printing needs with the following top flyer services.
.
VistaPrint. VistaPrint specializes in real estate flyer printing and related services.  You can go online and design, create and have the company distribute the flyers for you.  Essentially, you give them your mailing list of names and addresses, or rent one of their many mailing lists.
USA Printing Online. USA's web site says that it is a full service commercial printing company that's been in business for over 18 years.  In addition to traditional offset color printing (like I know what that is), they offer complete digital printing services.
If you like the control of designing and printing your own flyers, there are several good options to choose from. One is to print them on your office or home computer.  There are plenty of low cost, high quality printers to choose from and it's very feasible to print professional looking documents for relatively little cost.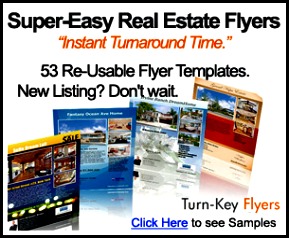 Home Page > Real Estate Flyers >> Real Estate Flyer Printing