Real Estate Flyer Template
Do you need a Well Designed Real Estate Flyer Template that can help you take your commission earnings to new heights?  Well, you can with any of the ones below, but especially with our Top Recommendation, Turn-Key Real Estate Flyers.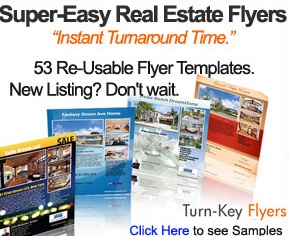 Turn-Key Flyers
Making real estate flyers and brochures is easy when you start with great templates and Turn-Key Flyers has lots of them! If you can point and click a mouse you can design professional looking flyers online in minutes.

Turn-Key Flyers offer colorful, professionally-designed property flyers that are easily customized. Plus, you only pay once to use them as many times as you'd like. They feature downloadable PDF flyer template packages that will enable you design, create and print real estate flyers in 5 minutes or less. They're excellent marketing resources that agents can use for their entire real estate careers!

Following are A Few More Companies To Consider

Vista Print is also one of my favorite sites for designing flyers, postcards and brochures.  It's a little slow loading, but my computer is long in the tooth and needs some serious upgrading.  Having said that, there are plenty of templates to choose from.  Plus, you get to see what the finished product looks like should you want to place an order before ordering it. 
Xerox offers free flyer templates that you can use whether you're an agent looking to sell a listing, or a home owner selling fsbo.  There's a nice collection of  customizable, easy-to-use flyer templates to choose from.
The Paper Mill Store has a large selection of flyers, brochures, business cards and other marketing materials that you can design and print. It seemed a little confusing to me, because you have to download and unzip files to your computer.  However, I admittedly am not the most savvy computer user. Despite that I think it's worth checking out.
Summation  
You almost can't go wrong using flyer templates; whether you're creating a Just Listed, Just Sold Flyer, or Open House Flyers.  You can also use them for leased properties and real estate exchanges.  However, in the end you'll need to exercise a little patience, because no matter how simple it is to use a site's templates there's an associated learning curve. 

Related Pages:   
Real Estate Flyer Software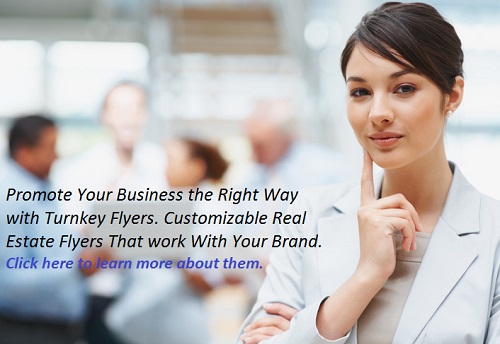 Home Page > Real Estate Flyers >> Real Estate Flyer Template