Real Estate Follow Up Letter

A good real estate follow up letter is an indispensable tool.  After you spend significant time, energy and money getting prospects you need to keep in

regular contact with them until you get Your Most Wanted Response. 
Your Most Wanted Response is what you want from the prospect.  That could be a listing; a sale, or even an exchange.  Or, it can be something as simple as an appointment. 
Whatever it is effective follow up after the initial contact is critical to getting the desired outcome!  That's why a good real estate follow up letter is an essential element of your marketing campaign.  And yes, you are marketing - yourself!
Now, before you get too excited about follow up letters be forewarned that not just any old letters will do. However, there are plenty of good ones available to choose from at reasonable cost. But if you're bound and determined to write your own then have at it.
The upside to pre written real estate follow up letters is that they're time tested and can be effective in any state, county, or city in the United States.
Really good ones can generate a steady stream of warm, responsive prospects month after month; all interested in the same thing; what you can do to help them buy or sell real estate. It doesn't get any better than that!
Some real estate follow up letters come with expired listing systems.  Some come bundled with FSBO Systems, while others come packaged in sets of "9 to  200" letters.
There are even letter writing programs that generate killer follow up letters, like this one.
Any or all of them can be effective, but in the end your real estate follow up letters should at a minimum have your full name, address, and phone number(s), and other contact information. They should be as grammatically correct as possible without sounding unnatural and spell checked to be free of misspelled words.
A good real estate follow up letter should also have lots of white space. What I mean is don't have run on sentences in paragraphs seemingly without end. Instead, have short, 2-3 sentenced paragraphs. For example, every paragraph on this page, excepting this one, is 3 sentences or less.
Also, use bullets whenever possible to break your sales message to help your reader better comprehend it.
Let's face it – you need buyers and sellers. The more you have the more money you'll make. Effective real estate follow up letters can help you generate business activity, which in turn creates income! Everybody likes doing business with a winner and good follow up campaign with real estate letters can help make you one.
*****************************************

Two Recommended Letter Resources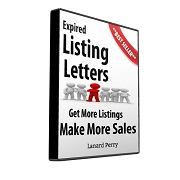 Expired Listings Letters can help you get more prospects, sign up more listings and make more sales.  These particular ones have helped some agents generate 2 or more listings a week, and in some instances without cold calling or cutting fees just to get the listings!  Some say Expired Listings are easy to get, as the Owners are already Realtor friendly and more motivated to sell than before.
Click here to learn more about them...

---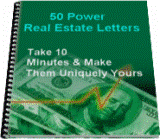 I buy prewritten Real Estate Letters and marketing articles and reports every chance I get. If there's one thing I know for sure it's that I'll be able to use them - I just don't know when. Like letters in my collection, these 50 Power Letters are worth adding to your data base, too.
Go ahead...check them out...

Home Page > Real Estate Letters >> Real Estate Follow Up Letter