Real Estate Marketing Articles

The Real Estate Marketing Articles below can help you learn new ways to market real estate for sale, profit and gain.  Are you tired of trying to generate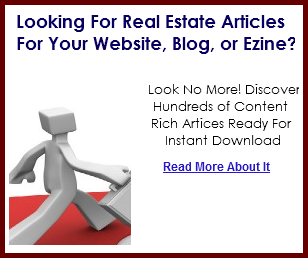 listings and sales without much success?  Tired of chasing ideas that don't work? 
In that case learn from the best of the best, as each article presented below was written by a heavyweight marketer in his or her own way,
or a gifted writer who can convey industry news in a way that an help you attract leads, wherever it is you live and whether the market is in a recession, or post recession rebound.
The takeaway here is to know that time spent learning how others are being successful is a great investment of your time, as it has the potential to result in a high return on your investment of time learning ans implementing new strategies and techniques. Following are the articles:

How To Create a Content Calendar That Rocks  Discover how to Create an Editorial Calendar for Your Content Marketing, Google Drive or Trello, and let others help you do it. This article shows you how to that with regard to creating content for your websites, blogs, newsletters, auto responders, etc..

Tips To Make You Better At Video Real Estate Marketing   Video marketing is huge...and real estate agents and investors who utilize the technology are reaping its many benefits; which include terrific seo, increased website rankings and visitors, growing internet presence and more customers.

New Generation Real Estate Marketing  The idea is simple; upload pictures of your listings to a host website and sequence them in the order that you want them to appear...and presto -you have a new video.
Surefire Email Marketing Strategies; Real Estate Lead Generation Ideas Made Easy What is there not to like about email marketing? It's arguably the cheapest form of advertising in today's market and perhaps the most effective, too. Are you utilizing it to its fullest potential, or not at all?
Article Marketing - Brandon's 7 Rules for Article Marketing Success Article marketing is the act of writing articles and publishing them online to increase Web exposure, search engine ranking and website traffic. Here are seven "rules" to help you get the most out of your article marketing program.
Three Lead Generating Strategies For Real Estate Agents  Here are three lead generating strategies for real estate agents that won't break the bank. In fact they'll cost so little money you can get started on them today.
5 Tips for Taking a Memorable Real Estate Agent Headshot  Do you have a real estate agent headshot? How good is it? It might be alright if it's not twenty years old.  Here are the ins and outs of getting the most of one.

More Real Estate Marketing Articles 
How To Get Real Estate Listings It was nearing the end of the month, just about time to pay bills again. I hadn't sold any properties, gotten or ...
Real Estate Sales Success; Be The Go To Source Starting a career in real estate is challenging, but with a little effort on your part you can be...

Attract Leads Like Bees to Honey with Prewritten Credit Card Marketing Articles Everybody is interested in credit information - so give it to them...

Farming Expired Listings Learn how ordinary agents generate lots of business with seemingly little effort...then duplicate their success...

Exit Real Estate Marketing Articles - See Articles for Realtors, Mortgage Lenders, Buyers, Sellers and Investors.
Read more business building ideas at the Real Estate Marketing Talk Home Page!