Real Estate Marketing Script
An agent with a good real estate marketing script gets lots of listings, makes lots of sales, or both. Why? Because a good marketing script provides a template for success, and can be as effective for you as the person who developed it.
Marketing scripts can cost thousands of dollars, but that doesn't mean they're effective. On the other hand, some scripts are pretty cheap; but, cheap is as cheap gets, and you may end up wasting a little bit of money for a whole lot of nothing.
My favorite real estate marketing script shows you how to convert expired listings to new ones and is the easiest way I know of to get real estate listings.  Plus, expired listings are plentiful and easy to find. Let me show you what I mean!
Log onto your Multiple Listing System service
Print out an update report for the last month, or any time frame you want.
Search specifically for the expired listings
Bam! The MLS update report will show you all of the expired listings for that report period and provide you with just about everything you need to know to re-list expired real estate listings. You can get the seller's
name
mailing address
property address
phone number
type of property
current asking price
price reductions during the listing period
how much the taxes are
and anything else that you even think you might want to know about these properties.
The nicest thing about the farming expired listings real estate marketing script is that you target only known prospects interested in selling their properties.
Unlike fsbos, cold calls and other marketing scripts, most owners of expired listings are warm, responsive, and still Realtor friendly. They are already sold on the idea of doing business with a real estate agent again, and if you have a good script you can convert them to your client just as easily as another agent.
---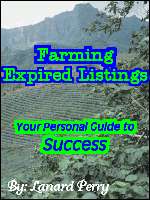 View Full Details!

Expired Listings Letters can help you get more prospects, sign up more listings and make more sales. These particular ones have helped some agents generate 2 or more listings a week, and in some instances without cold calling or cutting fees just to get the listings! Some say Expired Listings are easy to get, as the Owners are already Realtor friendly and more motivated to sell than before.
---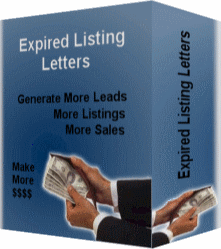 View Full Details!

The most successful real estate agents have lots of listings, and although getting them is easier said than done, it's relatively easy to do - at least with the right system it is! One system that works to near perfection is the Farming Expired Listings System, with letters. Learn how it can boost your business, too!
here are some more ideas on how to generate real estate leads.
please visit my home page before leaving - thanx, Lanard