Real Estate Web Site Content Structure; Good Structure Yields Great Results
Real Estate Web Site Content Structure.
A well designed web site starts and ends with great content; articles, reports, information about listings and community events, etc.

Fortunately, the basic structure for writing web site content is not a mystery. Each web page (which is an article or report) should have a beginning, a middle, and an ending. Now, that isn't too difficult, is it?

But here's the key to optimizing a web site page for search engines; web site articles that draw traffic have targeted keywords or phrases.

Don't be frightened by the idea of writing an article structured around keywords. It is much easier than it sounds. If you have researched a keyword(s) that you want to get traffic for in the search engines, a good rule of thumb would be this: use your keyword(s) once in the title, once in the beginning or lead, once in each paragraph of the article content, and once in the conclusion.

If you can use this basic structure -- keyword(s) rich title, lead, content, and conclusion -- you will find it easy to write content that will draw search engines to your website.

An expedient alternative to writing your own content is pre written real estate web site content.  With pre written content you can


purchase, download and be ready to upload hundreds of articles and reports in a matter of minutes
group the content into categories specific to buyers, sellers and investors
use them as special real estate marketing reports in email marketing campaigns
use as information for newsletters
use as newsletters
save hundreds of hours writing articles
build a mega web site in terms of days and weeks, rather than months and years
Pre-written
Real Estate Web Site Content
can be your "secret weapon" to generating lots of material that you can quickly add to your web site. And transforming it into something uniquely yours is quickly and easily done.
For example, I do the following things to personalize the pre written real estate web site content articles and reports that I used rather extensively on my web sites. 
One, I always write an original introduction paragraph of 3-4 sentences long for every pre written article I use.  This ensures that mine is unlike any other article available on the Intranet.
Two - I write a summary paragraph tying the article together. This is pretty easy to do, and I really look forward to this part of generating web site pages because when I get it right it I get high ranking pages that drive traffic to my products and services.  It's a rush seeing your pages go to the 1st page of Google.
Three, I add a few additional sentences at the end of each page, both using the keyword phrase, or title in it; one linking to a major page on my web site (I'll call it a Tier 2 Page - the kind you find in the Table of Content) and another linking to my home page.
Finally, I place Google ads on the page to monetize it.  My ultimate goal is to have every page on my web site monetized in some fashion - either by capturing visitor information for follow up and conversion to paying customers, or by earning money when they click on ads.
Real Estate Web Site Content is King
Have you ever observed how much fresh content the top web sites have? I have...and I can tell you that they literally have hundreds of pages - even thousands of pages in some instances.
Take my Real Estate Marketing Talk web site, for example.  As of the time of this writing it's approximately 240 pages large and contains a good mix of original and pre-written real estate website content! 
Why so many pages?  Because the more pages I have the better my chances of having each page rank high with the search engines, even pages that aren't well optimized.
If you need good, fast content ...and lots of it you can check out the pre-written real estate web site content located here!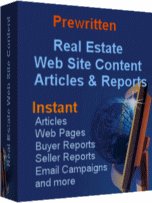 View Full Details...

275 Pre written Articles and Marketing Reports ready for instant upload as to your web site as web site content. Create Special Reports for Buyers, Sellers, Investors and Renters. Convert more prospects to Buyers and Sellers with these informative, high value marketing materials.
Return from Real Estate Web Site Content Structure to Real Estate Web Site Content!
Return from Real Estate Web Site Content Structure to Real Estate Marketing Talk Home Page!