Renovate to Riches: Buy, Improve, and Flip Houses to Create Wealth by Mike Dulworth & Teresa Goodwin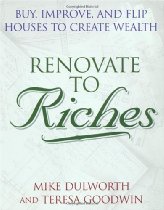 Get on your sweats, grab a hammer and prepare for some hard work! Might not sound too alluring now, but if you're ready to reap the rewards of your diligence once the dust has cleared Dulworth and Goodwin can give you the right tools. Throw the get-rich-quick shtick out the window and get ready to get your hands dirty. Renovate to Riches gives you the proper information of how to go about renovating and flipping legally and efficiently.
Return to Flipping Real Estate.