Sample Real Estate Cover Letter; Use As Is Or Transform It Into Something Uniquely Yours

A Sample Real Estate Cover Letter can stimulate new and inventive ways to expand your real estate marketing strategies.  Sometimes you can find free ones that you can use exactly as you download from the Internet. 
But even when they are good enough to use "as is" it is inherently better to take a few minutes to personalize them and make them uniquely yours.  By doing this you will end up with a letter unlike another one anywhere else.
A Sample Real Estate Cover Letter can also save you a lot of time and aggravation.  You can take a good one and use it as a template, then generate one letter after another from it!
Its form writing at its best. Once you've established the pattern of the template you can generate as many letters as you need – fast and easy.
Recently, a Realtor client who'd bought my Expired Listing System sent me a sample real estate cover letter to critique.  Actually, she sent me several letters, and asked me to give her feedback on them.  I forget how she came by them, but she wanted to know if I thought they were any good! 
Well, the first one was so bad I got ill at the thought of reading the others, so I didn't!  I was shocked when I opened the file and started reading the first letter!  Everything about it was wrong and serves as a good example of what not to do!  For example:
·         The entire letter was written in CAPITAL LETTERS, an act so offensive that people will simply stop reading and throw it in the trash.


·         I was doubly jolted because the entire letter was also written in BOLD FONT!
Real Estate Marketing Letters Power Pack!
Super combo of Expired Listing Letters, 50 Power Letters and 50 Companion Marketing Reports
Limited Time Offer! Click here to read more.

Imagine, if you will – an entire letter written in BOLD CAPITAL LETTERS!  It's the equivalent of screaming at somebody all day long while scratching your nails on a blackboard at the same time!  It was horrible!
If you ever come across a Sample Cover Letter like that toss it, and know that whatever else that person is offering, even if it's for "free" you simply can't afford it.  That kind of real estate marketing collateral will kill your business! 
But you came to this site looking for something you can use, and I won't disappoint you! 
Here are a couple of FREE Sample Real Estate Cover Letters that are better.  This one is from my Expired Listing System that helped me get more listings than I knew what to do with.  And this one is from a Sample Pack of 50 Power Letters!
If time and speed are important you can personalize 50 pre-written real estate letters in 10 minutes or so.
So, you decide!  You can write one slow letter after another, or you can take a Sample Real Estate Cover Letter like I did and transform it into something different!
Need Expired Listing Letters? Check These Out While You're Here.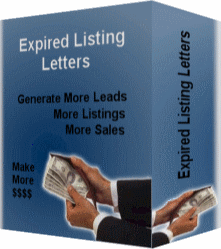 View Full Details!

Expired Listings Letters can help you get more prospects, sign up more listings and make more sales. These particular ones have helped some agents generate 2 or more listings a week, and in some instances without cold calling or cutting fees just to get the listings! Some say Expired Listings are easy to get, as the Owners are already Realtor friendly and more motivated to sell than before.
Click here to go from Sample Real Estate Cover Letter to Real Estate Marketing Talk Home Page