Selling Homes; Newer Is Not Always Better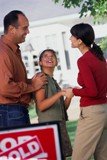 When selling homes with a little age behind them a Realtor that shows knowledge about a home's history will stand out among other Realtors. Selling homes can always pose a challenge, but the older ones need a lot more time and care.
You'll always find some home buyers heading to older communities to get homes within their budget and price range.
The problem is that when comparing older homes to the newer models most buyers don't know how to adjust the price for the smaller square footage, outdated floor plans, or above normal wear and tear.
If you're interested in selling homes located in older neighborhoods you better anticipate that some of the first questions will be about the age and condition of the home. So, when it happens be prepared by having the answers.
Specifically, don't downplay the age of the home. Instead, connect prospective buyers with the home's past. Each old home has a unique history, and if you can create an appeal based on its past and help a buyer to relate to what it must have been like to live there you could overcome the age factor quite easily.
As odd as it might sound, selling homes with a history may be more profitable than you think. A home's history can include the type of home it is, how it served society at that time, who used to live there, as well as the improvements or changes made to the home over the years.
It's the little things that will be of interest to a buyer. So, when selling homes that are older a wise Realtor will personalize the home and provide information about its history. This will make a big difference in how quickly a home will sell. Following are a few things you can do to discover the history behind the home you are selling.
First, take a moment to go through city directories. Those directories will tell you who lived in that house and when.
Next, hit the public library. Most insurance companies have local archives that show the layout of an area and what buildings were there. You generally can find floor plans that show the exits, doors and windows of the original buildings. Ask your librarian for assistance - he or she can easily point you in the right direction.
Finally, consider using a historical service. There are many services available that will research and provide you with a history of a home.
So, depending on the home, for around $500 you can receive a detailed historical report. These home histories can be a wonderful listing tool, and make a terrific closing gift after the home has been sold.
When selling homes with some age behind them, much of the mystery comes from a connection with the past. For Realtors selling older or historical homes time invested in learning a home's history is time well spent.

More Articles...
real estate marketing strategy
real estate letters
farm expired listings


exit selling homes and visit real estate marketing talk home page