Increase Business With Automatic Email Marketing Responder Software
The effectiveness of Automatic Email Marketing Responder Software is unarguable, even though some real estate agents don't quite get it yet!

Their effectiveness is unarguable.
In them you have technology that works 24/7/365 days a year providing information to prospects, gathering their contact information for repeat marketing communications and converting them to paying customers unlike any other product on the market.
Still, many agents, to their detriment either ignore Email Marketing Responder Software altogether, or groslly underutilize its capabilities. 
While some Automatic Email Marketing Responders can be cumbersome and complicated to use, some like GetResponse - are comparatively simple and easy to use. Plus, GetResponse also offers training videos to help it's users learn how to maximize use of their products.

So, What Exactly Is Automatic Email Marketing Responder Software?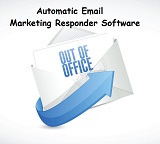 Basically, an email auto responder is a computer program that automatically responds to prompts sent to it, whether it's a request for information or someone signing up for correspondence from you (newsletter, e-zine, new products, sales notices, etc.). 
Think of the automatic "Out of Office" message you set up when you're getting ready to take a few days off work.  That's an automatic responder…a simple software program that allows you to create and automatically send messages without ever having to do anything else, except turn it off when you return to the office and/or to change the message the next time you're out of the office. 
Depending on how you set it up, everybody who emails you will receive your out of office message.
Why Use Automatic Email Marketing
Responder Software?
Because they can help you gather, nurture and convert leads to buyers of whatever it is you're selling with a great deal of efficiency.
Would you try to run a business without having the necessary tools needed to successfully run it – equipment, vehicles, phones, website, etc.?  Of course not – at least not if they were within your means to acquire them.  Yet, that's exactly what you're doing if you're not using it.
Email Marketing Software can help you get, nurture and convert more leads. It's a cost effective way to increase your revenue (e.g., salary, income and/or profits) while working more efficiently.
Email List Building – The Money Is In Your List
You've probably heard the phrase "the money is in your list"…and it's true, if you don't have a list of prospects you're not going to make a lot of sales – and it's really that simple.
But having a list is not enough.  You need one where subscribers want to hear from you; where they've given you permission to contact them and are eager to hear from. So, don't just get a list...build one. 
Here's how you do it!
Create and embed a form on your website so that people can opt in to your list. Offer something of interest to them for Free that they'll receive when they complete and submit their contact information via the subscriber form. When they do they'll automatically receive your pre-prepared response and requested information via your autoresponder. 
Once they're subscribed to your email list (aka contact list, database, subscriber list, optin list, etc.) you'll be able to contact them in the future to nurture a relationship with them. 

Summary
Being a successful marketer/business person in today's business climate requires the utilization of a different set of marketing tools than those used by businesses even ten years ago.
And it doesn't matter whether you're a business of one, or one with hundreds of employees; or if your business is brick and mortar, or exclusively online.
Whatever it is, Automatic Email Marketing Responder Software can be the difference between success and failure. Click here to learn more about a Free Trial Service of the one I use.
Home Page > Real Estate Email Marketing >> Automatic Email Marketing Software
Image by Gerd Altmann from Pixabay