Expired Real Estate Listing Pitch
If you think an expired real estate listing pitch, via expired listing letters, offers some business building opportunities you're right! Since the national do not call list went into effect compelling sales letters can offer the next best alternative to reaching prospects and delivering your marketing messages.
Through your letters you can emphasize how you are uniquely different in 1) packaging client properties to get them sold at fair market value 2) aggressively marketing their properties 3) and negotiating with buyers to get their homes sold while putting the most money possible in the sellers pockets.

While many agents know how productive and profitable real estate letters can be, few use them on a regular basis. I'm always left wondering why, as Farming Expired Listings is hands down the most effective real estate marketing strategy I ever used to generate listings...and lots of them!

If you're a licensed agent and are not marketing your services daily it's highly unlikely that you're making a lot of money. And let's not mince words here, you went into real estate sales to make money, and not just spend it! And although letters are not the magic pill that will start generating you tons of sales, they are one of several marketing tools and strategies that can solidify a sound business plan.
Need Letters?
Maybe! But you might already have some that you can use. Think about the various ones you have written in the past. More than likely you'll find that each one contains a valuable sentence or paragraph that can be used to generate new letters. You'll be amazed at how creative you can be once you get the ideas flowing.

Look at your latest thank you letter, introductory letter, or letter inviting special customers to a specific event. Also, browse though the letters that accompany invoices and payments sent to you, as well as your prospecting and sales letters.
Need more ideas? This sample letter might stimulate some ideas you can use.
Getting Started
However, you slice it letters are a valuable part of every business. And getting started is easy! To begin, set up a database with all your customer information. You'll want to include name, address, phone number, email address and perhaps what they have listed, rented, or sold in the past.

Don't complicate things by thinking you need to run out and buy expensive software to do this. You can use Word, or Excelor, which you probably already have on your computer. If not, there are a number of contact managers that will help you streamline the process and sort the information into specific fields.

Next, start collecting names and addresses of potential prospects. Save all business cards you receive and consider lead generating ideas that will entice people to give you their name and address in exchange for something free! There are many ideas for capturing contact information including: giving away free products, asking people if they want to sign up for a free newsletter of white paper and even holding a sweepstake, game or contest.
Become a Problem Solver
Remember that real estate sales people are in the problem solving business. Your prospects have real estate related problems, and your aim is to offer solutions to them.
Why? Because buying and selling homes can be very stressful, especially for first timers. Most need and want help in order to ensure that their experience is as good as it can get. So, be sure to emphasize "what's in it" for them. Again, they have a need and you have the solution.
More Ideas for Good Letters
Asking questions is an attention getter, as the readers of your mailings are likely to pause and think of an answer.

Also, create attention grabbing headlines/subject matter. You want to grab the readers attention and make them at least think about what it is you have to say.

Finally, keep your copy simple, direct, short and to the point. Also, use words that motivate.
Summarily, the most successful real estate agents tend to have lots of leads; buyers, sellers, or both. And alead generating system that works well is a good Expired Real Estate Listing System. They're relatively inexpensive, easy to find and are often ready for same day implementation.
Here's an Expired Listing System with Letters if you need one?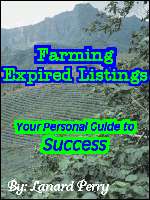 View Full Details!

The most successful real estate agents have lots of listings, and although getting them is easier said than done, it's relatively easy to do - at least with the right system it is! One system that works to near perfection is the Farming Expired Listings System, with letters. Learn how it can boost your business, too!
If you're interested in just Expired Listing Letters check this out!
View Full Details!

Expired Listings Letters can help you get more prospects, sign up more listings and make more sales. These particular ones have helped some agents generate 2 or more listings a week, and in some instances without cold calling or cutting fees just to get the listings!
Return from Expired Real Estate Letter Pitch to Real Estate Marketing Talk Home Page