Free Real Estate Flyers;
Power Tips for Greater Success
You can start making Free Real Estate Flyers starting right now if you want to... and I encourage you to do it!  Why? Because  you can increase your business activity when you do and with Flyer Marketing your results will be obvious to see; well designed and executed campaigns will do well while others won't!

Create Stunning Free Real Estate Flyers In The Comfort of Your Home
I'm sharing this article with the thought that it might cause you to rethink how you design, execute and leverage your Flyer Marketing Campaigns for increased effectiveness. Here we go!

I had just completed a flyer project on my home computer.  I designed and printed copies on my color ink jet printer and was pretty impressed with the results. It's wonderful when technology works.  I'd purchase my computer and printer for just such an event – to be able to make and print marketing materials to mail and distribute (handouts, leave behinds, posting on bulletin boards, etc.).
But even though the printed copies looked good they did not look as good as they did on my computer screen, which is what I was hoping for.  Still, I was very satisfied with the project…and why not?  I hadn't spent one single dime for 100 pretty darn good-looking flyers.  
A couple of days later I designed another, free, real estate flyer for a different project and used the flyer software that came with my laptop.  But instead of printing them on my home printer I downloaded the file onto a flash drive and took it to Office Depot where I had them print color copies on their commercial grade printers.
The difference in quality was HUGE! The colors were vivid and… popping!  What looked good at home with nothing to compare them too paled in comparison to those printed at Office Depot.  They were absolutely stunning and overall visually appealing!
Here's the point of the story.  If I'd not tried a different approach with the second flyer project I never would have always been satisfied with something that at best, by comparison to others, was average.  So, the question to you now is "why settle for average results when you can have outstanding ones with a little more cost and effort"... especially when they will be long lasting? 
Part Two of the story is some time after that I discovered Turn – Key Real Estate Flyer Templates and fell in love with their high-quality templates that allowed me to make stunning flyers with little effort… and I am no computer whiz when it comes to that sort of thing.
Still, with its "click and type" functionality I was soon designing my own flyers like a pro… and the flyers actually looked like a pro had done them! Turn Key has a Free Trial Offer and A Satisfaction Guarantee – maybe that's how I found my way to them.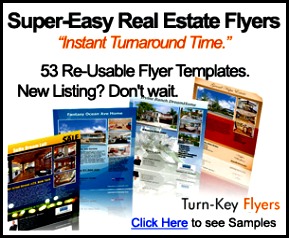 Take a Look For Yourself
Conclusion  
When you design your own Free Real Estate Flyers your finished product will look ultra professional if you pay a professional printer to print it, especially if you want color copies. I guarantee you'll love the results. Here's To Your Real Estate Marketing Success!
Home Page > Real Estate Flyers >> Free Real Estate Flyers