A Power Real Estate Letter Can Make Dollars And Sense

Below is a Power Real Estate Letter that I took from a sample pack of 50 Power Letters with 50 Matching Real Estate Marketing Reports. The beauty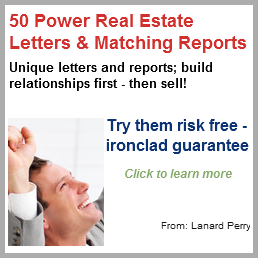 of this letter/marketing combo pack is all of the work has been done for you.
The most difficult thing you'll have to do is decide how you want to use them
...(farm neighborhoods, empty nesters, first time buyers, apartment dwellers, etc.);
sequence them in a way that reflects your targeted audience
and let em rip!  Just kidding, it's not difficult at all. Here's the letter!
************
Ms. Delores Home Buyer
1918 South Lake Road
Your town, PA 11111
Dear Ms. Home Buyer,
Buying a home represents the most significant financial decision most people will ever make during their lifetime.  From a person's first home, which often establishes the foundation for future home purchases, to the purchase of the home where they'll spend their senior years, there are definite pitfalls to avoid and suggested steps to take to assist one in making the right decisions.
For example, one of the first mistakes people make is not getting pre-approved or pre-qualified by a bank or lending institution. Sellers and their agents are often skeptical of a prospective buyer's ability to obtain a mortgage loan when the buyer has not been pre-qualified.
When choosing between two comparable offers, or when contemplating countering a buyer's offer, a seller will always look more favorably upon the pre-qualified buyer.
Employing the services of a Realtor makes great sense, since navigating through the home purchase process is both complex and fraught with financial dangers. However, as the buyer, you should have your own Realtor who will be fully committed to representing your best interests.
Therefore, I stand ready to assist you with your home buying needs and look forward to helping you make fiscally safe and sound decisions. I am available to you 24/7 and can be reached via the numbers listed below.
Looking forward to speaking with you soon!
Sincerely,

[[Your Name Here]]
[[Your Ofc Phone #]]
[[Your Cell Phone #]]
[[Your Email Address]
See "Real Estate Letters - Nine Reasons Why They're Effective"
Home Page > Real Estate Letters >> Power Real Estate Letter