I Love Real Estate Marketing and Everything About It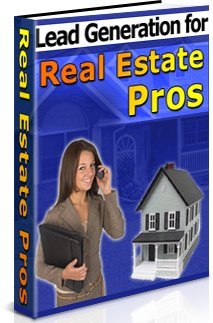 I love real estate and everything about it and have been involved in almost every imaginable way; as a real estate agent, investor, buyer, seller and  buyer broker.
I've bought and sold foreclosures, figured out the best to find "for sale by owner" property owners who would list their properties with me, developed sure fire ways to get listings and written lead generating letters.
I've listed properties, bought them, sold them, flipped them and dipped them.  Ahh, I was just seeing if you're actually paying attention.  If you can name it, and it has something to do with real estate, I've probably done it.
But my time as an active licensed agent and investor has come and gone. I'm no longer licensed, but I'm still involved in the industry. Nowadays I'm involved in internet marketing, creating and marketing related products for realtors and consumers.
My first product as an online marketer was an expired listing system that I developed when I was a rookie agent.  When I first got started I didn't have a clue about how to get leads or generate business.  Sure, I knew a lot of people and networked them, but they were all broke like me. 
So, I started farming expired listings almost out of desperation, but was soon signing up an average of 2 plus listings a week.  Not to brag but it kicks butt. Soon after starting it I began generating real estate buyer leads, too...and investor leads weren't too far behind.
Once I got that first lead it became a lot easier to get others.  For example, when I put up "for sale" signs on my new listings I'd get calls from other sellers wanting to list their properties with me, too.  In terms of free leads, I had developed a hot expired listing script without knowing it.
Real Estate Marketing Products; Mailers, Flyers and Postcards
I also started using mailers around that time, too; but I didn't use them like you might be thinking.  Instead of mailing them to buyer and seller prospects I mailed mine to other agents, with a special note to top producing agents in my area.
Whenever I got new listings I'd make brochures and  flyers and mail it to them.  And although it didn't always result in sales I developed a reputation as being a successful listing agent. I even had other agents calling and offering me listings that they didn't want.  
I remember buying one of them and flipping it.  I made around $20,000.00 on a deal that took less than 2 months to close.  To this day I still don't understand why any agent would give that kind of profit away for nothing in exchange, but who was I to deny them that opportunity.
I was never big on using postcards, custom or otherwise, but I did try my hand at it a time or two.  Specifically, I mailed just sold postcards to people living in neighborhoods where I sold listings in order to generate more leads and listings.  You know the drill – the more information you can get in front of your targeted audience the quicker you create name recognition for yourself.
But when it was all said and done the marketing strategy that I liked best, and that was the most effective for me, was real estate letter writing campaigns.  Good old real estate prospecting letters; simple, easy to do and very effective. 
I got more listings with real estate letters than I could shake a stick at.  In fact, I got so many I hired a part time worker to help me market them.  And when I got more I took on a partner to help with the work load.  Business was good and I got a buzz every time I'd get a listing or make a sale. 
I learned a lot about how to get and convert leads to paying customers; how to search for leads, how to get them and more specially how to keep them from straying away to other agents.
Foreclosures
As I gained more experience I also learned how to buy pre foreclosure properties.  It was about that time that I started buying real estate with no money down, with other peoples money, via simultaneous closings, etc.
Once I made my first deal I was hooked.  I then started reading everything about real estate investing I could get my hands on; marketing books, ebooks, investing books, magazines, etc.  I also attended investment seminars and workshops and learned some things that I'd never considered before; like sandwich leases, and offering tenants discounts on their lease if they agreed to be responsible for the costs of minor repairs.
I also learned how to buy bank foreclosures, something that I thought was beyond my reach.  My niche was to follow properties through the foreclosure process but not bid on them at auction.  Instead, I waited until the banks and mortgage companies completed the foreclosure process and bought properties directly from them.  
Despite what you might think property owners are not the only ones who are faced with a problem once foreclosure sets in. Mortgage companies and banks also lose, too. But rather than compound their problems they opt to get rid of repossessed house as fast as possible.
Banks and mortgage companies are also motivated because they don't want to end up with landlord responsibilities, which can be a major pain in the butt.  So, they sell repossessed properties at a wholesale price that investors can take advantage of. And by buying directly from them there is a lot less competition to deal with.  Plus, they are more willing to negotiate price and terms.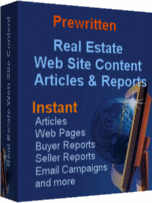 More Marketing Products
Lots of people (agents, buyers, sellers, investors, appraisers, title companies, etc.) are bailing out of real estate right now because the market's so bad and understandably so.  However, the fallout creates money making opportunities for those who are able to stay the course, especially if they quip themselves with the knowledge and tools needed to capitalize on the situation.
I'm talking about real estate lead generation ideas like using web site content to passively generate leads.  A web site can be a marketers 24/7 virtual salesperson. It'll never take a day off or ask for a raise, but will work tirelessly at capturing prospect information for effective follow up.
Real estate marketers are also notorious for under utilizing sequential auto responders to capture leads and convert prospects to buyers and sellers.  Interestingly, some agents get them with pre built web sites, but never take advantage of them. But they are powerful real estate marketing tools and I have used them to build a prospect data base of more than 3,000 people.  And while you and I might be targeting different audiences you can use auto responders to generate a prospect list, too.
Well, that's it for now, but if you want to hear more about what I have to say you can visit me at Real Estate Marketing Talk.