Realtor Marketing Letter -
Create a Winning Letter Writing Campaign...Today

A good realtor marketing letter can help you get lots of listings that you can eventually leverage into sales. Think of it as a template for success; one that can be as effective for you as the person who wrote it... and the more you send the more successful you'll be.

I've seen some realtor marketing letters that cost more than four hundred dollars a set. On the other hand I've seen some that are pretty cheap: but, cheap is as cheap gets, and you may end up wasting a little bit of money for a whole lot of nothing.
Some letters come with real estate marketing systems to generate your most wanted response. And your most wanted response could be a listing, a call from a prospective buyer, or whatever.
A Realtor marketing letter campaign can be one of the best, most focused, results oriented real estate marketing strategies for generating business. It's an easy concept, and even easier to do.
If you can mail a letter you can get listings and sales!
Still, even though many agents know how profitable Realtor marketing letters can be, they choose not to use them. I'm not sure why, but there loss can be your gain!
It's not rocket science, but before you get too excited be forewarned that not just any old letter will do. Effective ones must have enough information on them to get the most desirable response; a phone call or email message to you.
But if you're going for the ultimate most wanted response, an actual listing, or a sale your letter must be outstanding. Hint! A FREE cookie cutter letter won't cut the mustard if you are competing for a $300,000.00 listing.
Fortunately, there are some pretty good ones available at reasonable cost. But if you're bound and determined to write your own then have at it.
Another big upside to pre written letters is that they're time tested and can be effective in any state, county, or city in the United States.
Really good ones can generate a steady stream of warm, responsive prospects month after month; all interested in one thing, listing and selling their properties. It doesn't get any better than that!
Your Realtor marketing letter should at a minimum have your full name, address, and phone number(s), and other contact information. It should be as grammatically correct as possible without sounding unnatural and spell checked to be free of misspelled words.
It should also have lots of white space. What I mean is don't have run on sentences in paragraphs seemingly without end. Instead, have short, 2-3 sentenced paragraphs. For example, every paragraph on this page, except this one, is 3 sentences or less.
Also, use bullets whenever possible to break up your real estate listing letter sales message to help your reader better comprehend it.
Let's face it – you need listings. The more you have the more money you'll make. On the other hand you severely inhibit your earning capacity if you only have just a few of them.
A good real estate marketing system, with Realtor marketing letters can help you skyrocket your earnings.
If you're a new agent it can help you get off to a good start. You'll end up contacting a lot of "potential" buyers and sellers in a relatively short period of time. 
And if you've been licensed for a while, but don't have the volume of business that you want, a Realtor marketing letter campaign can supercharge your marketing results.
It's all about contacts.  The more people you market your services to the sooner you'll get to the people that you can "close".
So, conceive it then achieve it! Imagine your many listing signs dotted throughout your community, and then create a plan to make it happen. They will give you instant credibility and help you generate even more listings and sales.
Everybody likes doing business with a winner and a good Realtor marketing letter campaign can help make you one.

Below are the Farming Expired Listing Letters I used To Average 2 Plus Listings A Week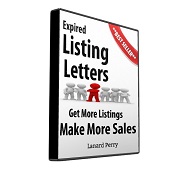 Click For Details
These Expired Listings Letters can help you get more prospects, sign up more listings and make more sales.  These particular ones have helped some agents generate 2 or more listings a week, and in some instances without cold calling or cutting fees just to get the listings!
Home Page > Real Estate Letters >> Realtor Marketing Letter