Expired Real Estate Listing

An Expired Real Estate Listing is sometimes the first real opportunity new Real Estate Agents have at securing customers.  Although veteran agents are equally challenged to find customers they're not as handicapped as new agents.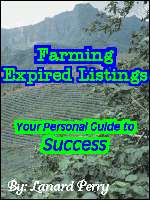 For new agents it's a matter of survival from day one of getting licensed as the pressure on them is oppressive, almost stifling at times. 
How can they generate prospects, leads and listings?  When can they earn their first commission? 
Will they be able to establish a recurring income in a commission based industry? 
How can they earn enough money until then?
Did You Know?
Those are the hard questions that few are able to answer and resolve quickly, which leads to this sobering statistic; approximately 70% of new agents are out of the business within a year.
You can read more about it here, but the point is this… agents who don't adapt and implement proven strategies early in their careers usually exit the business fairly quickly. 
Is your every day spent making contacts with clients, prospecting, and getting in front of others? Probably not, but they should be…and the sooner you can unconditionally answer yes to the question the closer you'll be to establishing a successful and sustainable career.
Expired Real Estate Listing Systems Make a Difference
The potential to make lots of money in real estate is great.  It can be very lucrative if you are willing to work hard and invest the time and money needed to succeed - even in today's market.  And time is the easiest thing to give, as you have total control of how much of it you're willing to invest in your success. 
As for investing money...some successful agents turned to Expired Real Estate Listing Systems, Letters and Scripts for a relatively small monetary investment and found them to be a difference between being one of 70% of agents who wash out within a year, or one of 30% left standing.
Expired Listing Letters
Thankfully, most Expired Listing Systems include letters.  Unfortunately, some agents underestimate the value of effective letters and over rate their ability to write them. Please don't fall victim to the same mistakes.
If you're an accomplished writer maybe you'd be better off focusing on being a journalist, becoming a highly sought after copywriter, or a renown author for that matter. 
Instead, focus on what you do or want to do best…sell real estate.  Leave the writing to writers.  Don't get distracted from your purpose when you can purchase killer letters for less than $10.00 a letter, a bargain no matter how you look at it.
Now Is Your Future
Are you too cheap to invest in your future? If so you should retire your real estate license now while you can still come out money ahead.
If you don't you your bills can pile up faster than you'll have income to pay.  Seriously!
For example, assuming zero income for 6 to 12 months, you could spend $24,000.00 to $48,000.00 in bills if your monthly living expenses are around $4,000 a month. That's a hefty debt load.

On the other hand you can spend what amounts to a dinner in a fine restaurant for as Expired Real Estate Listing System, or letters, and significantly alter the course you're on right now.
Summarily, Expired Real Estate Listing Systems, Letters and Scripts can't guarantee your sucess.  However, you'll at least have the tools needed to compete with other agents and to generate what you need - leads, listings and sales.
Readers of This Page Might Also Like:
Farming Expired Listings – the system I created and used
Expired Listing Letters – part of the system mentioned above
Real Estate Letters – fsbo, absentee homeowner, etc.
Exit Expired Real Estate Listing and Read About Expired Listing Systems
Visit Real Estate Marketing Talk Home Page For More Marketing Ideas