Real Estate Marketing Tips -
Help and Be Helped!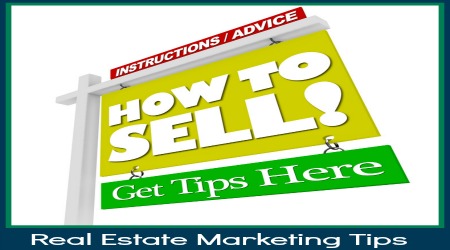 Have Any HOT Real Estate Marketing Tips that you'd like to share?  Every agent, buyer, seller and investor I know is looking for one that will help them get their properties sold, rented, leased, or flipped... so sharing any you have will be appreciated!
Let's Start With Some of Mine
#1    Automate Emailing Chores  - discover how Best Practice Real Estate Agents make effective use of Sequential Auto-responders

#2   Building a Mailing List - this strategy is mostly minimized by most real estate marketers, despite it being fundamental to their long term success.

#3   Start a Newsletter -  whether it' via email, paper, rss, blog - it's all good. Repeat contacts with your prospects is what will convert them to paying customers. 
#5   Market Expired Listings - they're easy to find and are already realtor friendly.
#6   Give Away Business Cards - give away as many as you can and as fast as you can. 100 a week x 52 weeks equals 5200 contacts. Can you handle that?   
#7  Farm Buyers Without Having Any Listings - write an ad, make and distribute some flyers and you're in business. 
#8   Real Estate Buyer Lead Generation - Farming Buyers Without Listings
#9   Don't Have any Listings? Borrow one! -  you are part of a Multiple Listing System, aren't you? Market any listing as if it's yours. 
#10 Farm FSBOs - don't cold call. Mail letters, postcards and flyers instead.
#11 Hold Open Houses - here's the best technique I've ever come across.  You owe to yourself to try it at least once in your career.   
#12 Create and Distribute Real Estate Flyers - here's one of the best DIY Flyer Design Services available. Try them - Risk Fre.

Borrow A Listing - market any and everything in your Multiple Listing System.  That's the whole point of being an MLS member. 

Automate Chores With A Sequential Auto Responder - I grew my mailing list from 0 to 3500 subscribers with an autoresponder. Would you like to achieve comparable results? 
Sponsor a Community Resource Guide - you can do an online version of one for virtually pennies and get people in the community to provide the content for it; garage sales, baby sitting services, mentoring, community events, association meetings, etc. 

Now, let's see what readers like you have said...
but before we do, would you like to submit one? Here's how.
Okay, here's what others said...
enjoy!
Home Page > Real Estate Marketing Tips