Real Estate Agent Flyers; Turn A Stream Of Leads Into A Flood
Every day thousands of people become potential buyers of properties for sale. They go through newspaper ads, banner ads, search engines, billboards, and other sources of information to find what they are looking for.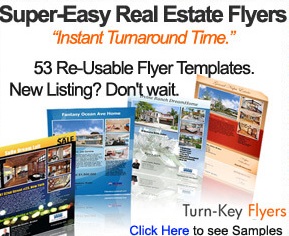 Top Flyer Recommendation
If you want to sell them properties you need to advertise where they go.  Classified newspaper ads and flyers are good places to start. Let's say you run a campaign to generate buyer leads.  Some agents think that they have to advertise a specific property to do this, but that's not true. You need to think and act outside of the box a little bit.
For example, you can run an ad saying something like
Tired of Renting? Then call me at 33-333-3333
to learn how you can buy for less than rent!
Next, design and print a flyer saying the same, or similar thing.  Then, place them where people go; grocery stores, convenience stores, gas stations, dry cleaners, convenience stores, hospitals, apartment complexes, strip shopping centers, etc.  You should also place them on car windshields during local sporting events; basketball, softball, football, baseball and soccer games; gymnastics and track meets, etc.
Ever See Any Youth Soccer Games On Weekends?

At times there are literally hundreds of cars gathered on Saturdays and Sundays neatly lined up, ready for real estate agent flyers to be placed on them.  Why shouldn't they be yours? So, if you're not using agent flyers and brochures to market your services you're missing the boat. especially since you can design and make a free real estate marketing flyer using free real estate flyer software.
More Ideas For Real Estate Agent Flyers
10 Easy Ways To Make Your Flyer Stand Out In a Crowd
Here's an article that speaks well to what I call 10 basic principals to achieve flyer marketing success. It's a great article for newbies, but is also a helpful reminder to veteran agents, too. You'll be glad to read it for the first time if you've not read it before, or happy to be reminded of them if you have. More...
Video: Best Marketing Ideas - Distributing Flyers
It's amazing how much interest you can generate by distributing and handing out flyers. It's cost effective and very productive. If you've ever done it you know that I'm talking about, but if haven't you're in for a pleasant surprise. While this video isn't specifically about real estate you'll see how it's easily applicable to generating leads through flyer marketing. More...
Now, make some flyers, print them and go out and distribute them. 
Here's To Your Real Estate Marketing Success! 
Home Page > Real Estate Flyers >> Real Estate Agent Flyers