Email Marketing For Real Estate Agents
- Three Ideas To Magnify Your Success!

Email Marketing for Real Estate Agents. Email Marketing has forever changed the real estate industry. It's no longer "business as usual" where the best that an agent can expect from a marketing campaign is a few leads at a time. Those days are long gone!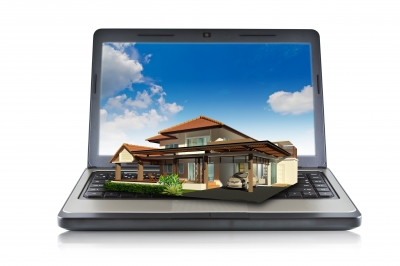 Email Marketing for Real Estate Agents is BIG Business
Nowadays, agents can generate scores of leads in relatively short order with simple campaigns.
As an example, my first email marketing campaign was a career changing event. In a few weeks I went from no leads to dozens of then; then to hundreds soon thereafter.  I then I steam rolled my way to more than three thousand subscribers (prospects and leads) at my zenith. And these were mostly free, exclusive agent leads that I generated myself!
And although we might market to different audiences (me to real estate agents and you to real estate buyers and sellers) you can realistically expect to experience some of the same successes with your own email marketing campaigns with the ideas below.

The biggest appeal about real estate email marketing campaigns is once you set up a good one, you'll know it! After that your job then becomes driving leads to it... and duplicating it as fast as you can for even more success.
Three Email Marketing Campaign Ideas to Boost Any Real Estate Agents Business

Can you copy and paste tesxt from one document to another? That's how easy it is to start these email campaigns! 
After reading them I want you to grab a pen and paper, or open up a blank document on your computer, and create a campaign for each category of prospects noted; buyers, sellers and investors.  Or, you can simply tweak and use the three campaign ideas below "as is". 

Each example involves giving away an enticing free product that could generate a steady stream of leads by having people opt in to your mailing list in exchange for the information. You can find some here!
Email Marketing for Real Estate Agents
#1: Campaigns for Buyers

For Sale!  
Amazing Home Looking for New Owners  
4 Bedrooms, 2 Baths – 2000 Square Feet  
Great Neighborhood, Good Schools & Nearby Shopping
Buy for The Same As Rent
$350,000 Asking Price 
Email sendinfo@abcrealty.com for more information
Email Marketing for Real Estate Agents
#2: Campaigns for Sellers
Trying to Sell Your Home Yourself?
Our Guide to Selling For Sale By Owner Can Help
It Includes 31 Tips & Strategies for
Getting The Most Money For Your Home 
in The Fastest Time Possible
… and its FREE! 
Email sendfsboguide@abcrealty.com For Instant Delivery
Estate Email Marketing for Real Estate Agents
#3: Campaigns for Investors

Investors!
Get Our FREE List of Foreclosures
Monthly Updates Available
Current Asking Prices Total $3,750,000
Projected Value is $5,000,000  to $7,000,000
Email sendforeclosurelist@abcrealty.com for List  
My Email Marketing for Real Estate Agents Testimonial
I launched my first campaign in 2005 and I'm still using it to this day.  In years 2- 6 I enrolled thousands of newsletter subscribers and sold lots of products (Ebook, letters, website content, flyers, etc.).

So, how is this relevant to you?  It's very relevant! Automatic Email Marketing is perhaps the most underutilized tool available to agents today.  And, costing just pennies per lead, it's significantly less expensive than most other marketing strategies.  Still, and surprisingly, few agents do it effectively.
Is Email Marketing Right for You?     

If you're a Feal Estate Agent who isn't engaging in email marketing campaigns I dare say that you're giving lead listings and sales away to your competition like a boat taking on water... pretty soon you're going to sink below water level and not be able to come back up for air. That's when you'll be retiring your license and looking for another way to earn money! But it doesn't have to be that way.
So, is email marketing right for you? Probably! But here are a few questions for you to be sure. If you answer "yes" to any of them Real Estate Email Marketing is most definitely for you.

Are you a new agent looking for cost effective ways to generate leads?

Are you a veteran agent looking for ways to progress to a higher level of success?

Would you like to be more productive while spending less time doing what you're doing?

Do you think automating your ability to follow up on leads can help you convert more leads and prospects into paying customers? 
Do you like the idea of generating leads 24/7, even while you're sleeping in bed? 
If you answer yes to any of these questions email marketing campaigns are clearly a viable way to grow your business. How? By using a tool that I call the Secret Weapon...Autoresponders; also known as Email Marketing Services, Drip Marketing, Electronic Newsletters, etc.
The Autoresponder company I use and recommend is Get Response. However, here's a link to an article comparing sixteen email marketing companies for your review and consideration. Many offer a no obligation free trial, so try them out and chose one that you think is best for you.
Now let's discover how you can boost your leads, listings and success through Real Estate Email Marketing.  Bookmark the page now to come back again to see new real estate agent email marketing ideas we add from time to time! 
Okay! So, now lets get ready to fire up your first campaign, or improve ones you might currently be working via the information and resources below!
Email Marketing for Real Estate Agents -
Additional Resources in Review


Autoresponders are the most effective marketing tools I've ever used. There's no better tool for generating leads and nurturing them to leads and sales. So, if you're looking for something that can make a difference in your business look no further than this effective real estate email marketing software tool!
---

Best Real Estate Emails.  Best design tips begin with sending information only to people who request it and ends with content that make readers anxious for more.  Read our simple suggestions for explosive results.
---

Bulk Email Marketing for Real Estate Agents. There's a comparison of 3 bulk email service providers, a link to a comparison of 16 providers, plus ten of the most important tips to ensure that your email marketing habits are best practice and industry norm. 
---

Need an Email Marketing Service? Try one of these.  Ten software services that can help you take your business to the next level. Set up a couple of messages, place a subscriber form to capture names on your website, then get ready for a life time of subscribers.

---

Email Marketing Lists You can buy them, rent them, or create your own. However, the better long-term strategy is to build your own list from the ground up, as each person on it will have a personal connection with you and therefore more likely to be more responsive to your mailings.

---

Optin Email Marketing There are some fundamental, guiding principals with regard to email marketing that you must adhere to...and one of them is "never spam" anybody - ever! . That principle is accomplished through "opt in" marketing, where every subscriber has to...

---

Email Marketing Helps Business To Grow People do business with people they know and trust.  Consequently, establishing relationships is vital to your success.  Auto responders can speed up that process.

---

Real Estate Email Marketing List Rental While building a mailing list of prospects is a far superior to buying or renting a list, buying and/or renting one is worth trying out...at least once. If nothing else it's a quick way of generating traffic and interest in your product.

---
Real Estate Marketing Online Strategy I've been marketing online since 2004 and find that I sign up the most newsletter subscribers when I give away something of perceived high value for free in exchange for a  newsletter subscriber's email address.

---

Real Estate Email Marketing Software - Every day delayed in getting started with Real Estate Email Marketing is another day somebody is getting the business that you could be getting. Start changing your future today!

Pages related to Email Marketing for Real Estate Agents  
Auto Responders - Send Your Email Marketing Campaign Into Overdrive   
Three Common Myths About Real Estate Marketing               
3 Reasons Every Agent Needs Email Marketing Software    
Home Page >  Email Marketing For Real Estate Agents  
House With Computer Image courtesy of jannoon028 at FreeDigitalPhotos.net