Farm Expired Listings for
Explosive Results

Letters To Expired Listings
Converting Expired Listings to New Listings is a Big Deal! Why? Because magic happens when you place "For Sale" Signs in front of homes you've listed with name riders on them! And here's the magic! Every passerby, property owner, renter, visitor, and investor in the neighborhood where your signs are up will potentially look to you as an agent to do business with you, too.
And when that happens your sales and commissions will kick into a higher level of success! And when they do, they won't stop until you stop doing what you did to achieve the success in the first place, which is farm expired listings like your business depends on it! 
Harness The Magic - Mail Letters To Expired Listings. 
Using time-tested letters is a proven, effective way of generating real estate leads. With them, you could soon have many for-sale signs in front of homes throughout your community. Without them, you could be just another struggling agent, barely hanging on from month to month.

The key to successfully working expired listings will be your commitment to mailing letters on the days the listings expire; not one day, two days, or even one week later, but on the days they expire. 
Why?  Because there's something to be said for being one of the first agents to communicate with the sellers. There are some times when the early bird gets the business.
You also want to mail your letters 5 - 7 days a week, but if you don't like doing business on your sabbath day, whether Saturday or Sunday, that's okay.  Mail those letters on Mondays with the regular batch of expired letters you'd typically mail that day.

There are several reasons for the timing of the mailing of the letters.  First, without throwing former agents under the bus, it alerts the owners that their properties have expired in the event they are unaware of it... and that happens a lot.
Also, many agents let their listings expire without having had prior conversations with the homeowners.  Sometimes it's because they've done a poor job keeping the owners informed of their efforts to sell their properties, and because of their embarrassment, they quietly let the listing expire.
Other times it's just because they're not valuing their clients as they need to be. Informed clients are happy, while uninformed ones are primed to be business with agents who will appreciate them.
Embarrassingly, I admit to having been guilty of letting some of my listings expire a time or two due to a failure to follow up with my clients properly. Still, I recognized it for its unflattering and unprofessional behavior! I redeemed myself by creating a Marketing Update Report I sent the owners. 
I sent it weekly because it forced me to do something every week to market their properties. Consequently, I had something positive to share with them often... even when it wasn't to tell them that an offer had been made on their property... and I did it via phone or letter correspondence. 

The Marketing Update Report - which was set up like a checklist where I checked the things that I'd done - included things like
Advertised the home last week
Held an Open House
Hosting an Agent Tour of the Home
Hosted an Office Caravan Where Company Agents Toured the Home
Made and Circulated Letters, Flyers, or Postcards
Informed Top Producing Agents of The Listing via Personal Flyers to Them
Showed The Home
Reviewed the Status of the Home with the Owner; Price, Terms, and Conditions
Made Recommendations
Implemented Recommendations
The short of it is this. Agents market their listings in many ways, but even the best of them come up short sometimes in communicating to owners all they've done and are doing to sell their properties.
Who thinks to share all the daily things one does to market a home?  And the more considerable downside is who remembers all that was done at the end of a month?
That's the value of a form like the Marketing Update Report that is a part of this particular Expired Listing Letters System!  When all else fails, you keep them on your desk, laptop, or whatever; make notes about your marketing efforts in real-time and then send them to your clients at the end of the week. Your clients will love you for it!
Informed clients are happy clients, and when it comes time to relist an expired listing with you, they'll be informed in advance and in a positive frame of mind about relisting because they'll have a physical record of how much effort you put into selling their homes. Are you using anything like this right now?
An expired listing letter from you could be the first time an expired property owner has heard that their listings have expired. Understandably, some are surprised, mildly to irritably so. But either way, it's good for you because you'll be Johnny on the spot with the information they should know. 

Key Point: Be consistent and systematic in your approach; daily application works best - inconsistent application compromises your results!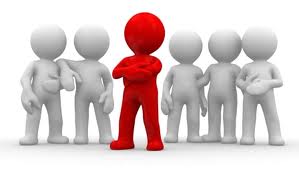 You Can Dominate Expireds... if you want to!
Most agents intuitively know an Expired Listing System 
can help them succeed, yet many of them fail to acquire one - and some that do are inconsistent in their application.
On the other hand, agents who "get it" prosper.  Those who don't sometimes retire their licenses due to a lack of business.  Bluntly, they fail to generate enough commissions to sustain their careers. 

Are you a passive person? No problem! Mailing letters is a great way to compete with agents who are outgoing and more aggressive by nature... and the more consistent you are in mailing them, the more competitive you will be. 
What's Next?
Farming Expired Listings
Knowing what to do and doing it well are two different things.  Many agents have poor follow-through, use ineffective letters, and are easily distracted. They move on to the next popular marketing idea before fully allowing themselves to succeed with the ones they've already implemented. 
Consequently, Farming Expired Listings is a unique opportunity to up your game by increasing your success and elevating your visibility in your community. But let's be clear.. although farming expireds is easy, consistency in going after and getting them is required for the best results and maximum satisfaction.

Warning! If you want to avoid committing to a 5-6 day a week daily routine of reviewing and mailing expired listing letters, I respectfully submit that farming expired listings may not be for you. You'll be disappointed with the results. 
Expired Listing Script
Our Expired Listing Letters Set includes a listing script that tells you what to say, when, and how.  Additionally, it tells you when to be quiet and let the owners talk, which often leads to you being able to make an appointment to take a listing versus making a presentation.
It's important to reflect on this for a moment because there's a significant difference between the two things; making an appointment to take a listing versus making an appointment to give a presentation. Our script will get you the former, while others will get you the latter.  Which would you rather have?
Is Sourcing Old Expired Listings Worthwhile?  Absolutely!   

Old Expired Listing Prospects. When you first start, I highly recommend researching aged Expired Listings because once they've been off the market for a while, they are no longer on the radar of agents who farm them.
Now, let's think about that for a moment, too! These old expired listings represent a veritable treasure trove of leads ready to do business with an agent who thinks enough of them to seek them out. 
Ready to Farm Expired Listings for Big Commissions? Congratulations, that's a beautiful thing because no matter how successful you are, you can always use more leads, listings, and sales…right?  And the process is so simple you're almost assured of success. 
See Our Expired Listing Letter System -
It includes Letters, a Script, & More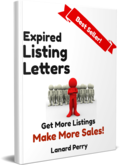 There's no easier way to start marketing Expired Listings than with these letters. They're ready for immediate download and use and can be used exactly as they are when you receive them.  Plus, they come with a money-back satisfaction guarantee - so you have absolutely nothing to lose... but a lot to gain! >>>

Related pages you might like...
Acquiring Expired Listings     
Are you looking for a way to be ultra-successful while still having a life outside work?  If so, generating leads with an expired listing system might be your perfect marketing strategy. Once you define what you want and set goals, it'll be easier to make it happen. If you're serious about getting a leg up on your competition and leaving them behind, getting expired listings is a way to go. 
Expired Listing     
There's hardly a day that goes by in any given community where listings don't expire. Sometimes they're so plentiful you can cherry-pick the good ones and leave the undesirable ones (overpriced, unreasonable seller expectations, etc.) to others. Perfect for New Real Estate Agent Marketing, it's also an effective strategy for Veteran Agents to increase their success! 
Expired Listing Letter  
Expired Listing Success comes to those who put forth the time, effort, and investment required to become successful real estate marketers.  And it's made easier with a foundation comprised of a proven Expired Listing Letter System, an effective Expired Listing Script, plus collateral documents and forms that convert sellers to clients when they call you!    
Expired Listing Letter Campaign   
Turning expired listings into new clients is exhilarating, especially when you know you'll get listings when you mail letters. 
Real Estate Expired Listing Postcards  
Whether sending them via postal service, email, texting, or postcards will get your messages to read and generate new business.  
Expired Real Estate Listing
Farming Expire Listings is the perfect strategy for marketing yourself in real estate. It offers a disciplined, proven approach to real estate success.  
That's it for right now!  Here's To Your Real Estate Marketing Success!

Home >  Expired Listings   
Arroe Businessman Image by Stuart Miles at FreeDigitalPhotos.net