Real Estate Articles
for Buyers
Ever stay in a house, totally dreaded being there... but couldn't leave fast enough? I have! Now, imagine buying a 
home and being awakened by noisy, out of control neighbors your first night there! Oops! Too Late!  Protect yourself and your financial investment with knowledge and competence! Read our articles! Enjoy
These Real Estate Articles for Buyers Include What They Need To Know 
House Hunting 
Moving and divorce are two of the most common stressful events a couple can experience. Divorce is a subject for another time, but for now let's consider the event of moving and look at some ways to... 
Ten Tips For First Time Home Buyers   
Buying your first home is one of the most exciting things you will ever do. If you have spent years living in apartments, there is nothing more satisfying than owning your own home. However...  
Location, Location, Location! 
Arguably, the most important consideration in a home buyer's decision to buy a home, or not, is location! From good schools for your kids, commute to work and everything in between, location ... 
More articles below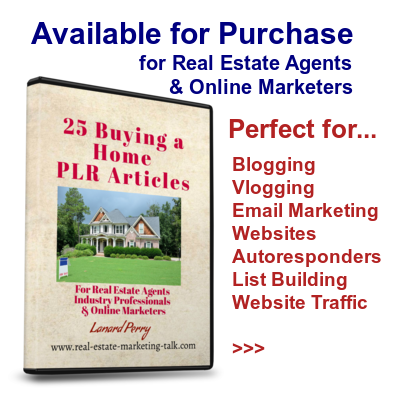 Ten Things To Avoid If You're A Home Buyer
Buying a home in today's market can be very competitive. For a while sellers could set an asking price and get multiple – sometimes greater than their asking prices. However, sellers still have the... 
Buying A HUD Home From The US Government   
Buying a from the Department of Housing and Urban Development (HUD) is a great homeowner opportunity. and although they're typically purchased by low to moderate income people anybody... 
Real Estate Appraisals Are For Lenders; Not Buyers and Sellers 
There are two important things to know about Real Estate Appraisals are 1) an appraisal is not the same thing as an inspection and 2) appraisals are for lenders- not buyers or sellers...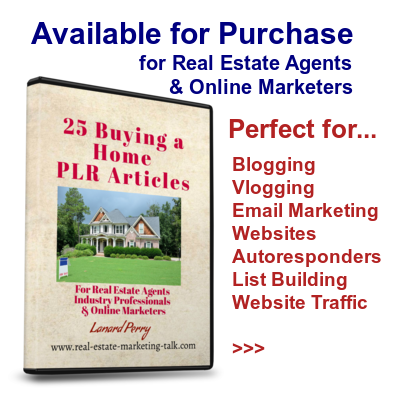 Home >> Real Estate Articles >> Real Estate Articles for Buyers 
Tags: Email Marketing For Real Estate Agents  /  Real Estate Marketing Reports /  Real Estate Website Content  / Buying a Home PLR Articles     

Image Courtesy of Stuart Miles at FreeDigitalPhotos.net