Attend Open Houses to Get a Feel for What You Want – and Don't Want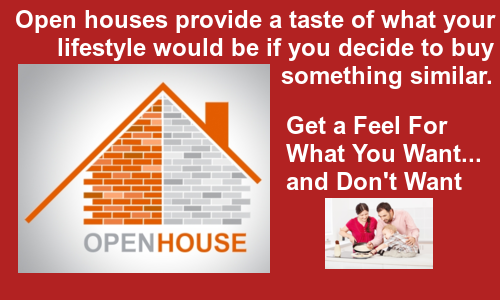 You've outgrown your house and find out you qualify for a mortgage that will let you upsize. Or, your kids have flown the nest, and you're ready to sell the family home and downsize – or you may be a first-time home buyer and need help deciding what you want.
Congratulations! Whatever the reason for purchasing a home, it's vital that you get a feel for what you want so you don't spin your wheels and waste time – or end up with something you don't want.
Open houses provide a taste of what your lifestyle would be if you decide to buy something similar. Unless the seller still lives in the house, the realtor will often stage the homes with furniture and design touches to help you visualize living there.
Attending open houses provides information that will be useful when you make a final decision. You'll get to explore other neighborhoods, check out schools you're interested in, and explore the various floor plans available.
If you're looking for a fixer-upper, you'll want to visit foreclosed or short-sale home listings. Be aware that these homes usually need investments in remodeling, fixing existing problems, or replacing appliances. It can be an excellent investment if you have the time, energy, and money to invest in a fixer-upper.
The purpose of an open house is to let people see what's available in a particular neighborhood and entertain the idea of purchasing. But even though you may not be looking for a home at this specific time, agents welcome those just looking.
Word of mouth is the most effective way to let people know that homes for sale exist, and even though you may not be in the market for a home, one of your friends or neighbors may be.
Always remain loyal to your agent. When you attend an open house and sign in, indicate that you already have an agent you're working with. The agent at the open house will appreciate knowing that information and won't attempt to solicit you to become their client.
Before you begin your search, you should know the etiquette of attending open houses. For example, you should always sign in and indicate whether you're already working with a realtor.
When arriving at the open house, feel free to enter without ringing the doorbell or knocking, but always try and meet the agent. Some will take you through the house and show you unique features, while others will let you pick up a flyer and let you see the home on a self-guided tour.
If someone is still living in the home, respect their belongings. It's not okay to open medicine cabinets and closets and rifle through their things. Always ask the agent if looking inside a closed door is alright.

Other pages you might like
House Hunting  Are the lawns of homes in the neighborhood where you're considering buying your new home well-maintained? Do the houses look like the owners take pride in them? Is the area peaceful or noisy and irritating? Here are more things to consider before buying.
Ten Things To Avoid if You're a Home Buyer So, you know you shouldn't buy a new fifty thousand dollar car, right before closing on a new home? Right?  It'll be okay if you're independently wealthy, but for the average Joe, it can mean bye-bye to that new house - at least for a while!
   
Location, Location, Location! Location is the first factor to consider when planning a move. You will want to know about the schools if you have children or are planning a family, how quiet the neighborhood is, and more. 
Home > Real Estate Articles > Real Estate Articles for Buyers > Attend Open Houses