50 Power Real Estate Letters 
PLUS 50 Matching Articles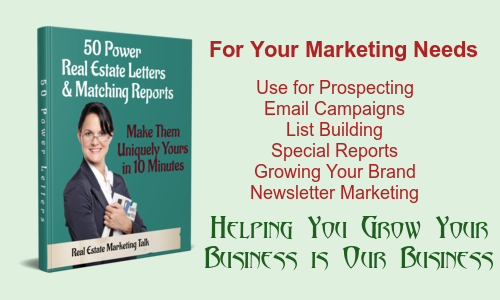 Limited Time Special Price!
Power Real Estate Letters - it's true! As old-fashioned as it may sound, you can still increase your income by mailing real estate letters, but understanding how to do it effectively is the challenge!
And while generating a steady stream of warm, renewable leads eager to do business with you is challenging, it can be done!  And - the more contacts you have with your prospects, the more likely you will become their preferred agent of choice.

Mailing Letters is Good for New & Veteran Agents
If you're a new agent wanting to get off to a fast start, mailing Real Estate Letters make for a great beginning, as you can contact many "potential" buyers and sellers in a relatively short time.
On the other hand, if you've been licensed for a while but don't have the volume of business that you want, letter-writing campaigns can turbocharge your marketing efforts with loads of contacts in a short period, over and over again; and when you consistently provide information that they do want they'll begin looking forward to receiving it! 
Here's How to Organize Our Power Letters
PLUS Matching Reports 
1) After you purchase the letters, create a folder on your computer to upload them to...or if you have a contact manager load them into it.  Then spend a few minutes personalizing the letters and reports with your information; name, email address, office and cell phone numbers, website URL, etc. 

2) Next, read all of them; to get the most out of these letters, you need to know them. And while you're at it, review the index of 1-50 letters and real estate article reports by name, too.  These two things will make the next step easier.

3) Sort the letters and article reports into various campaigns in the order you'd like to mail them.  For example, you might want to create a Seven Letter Campaign targeting Buyers.  These Power Real Estate Letters have more than 14 letters specific to Buyers, plus others that speak to buyer and seller interests.  The point is you'll have plenty to choose from.   

4) Finally, create sub-folders for the various campaigns you created and sequence the letters according to the order that you want to mail them.  It would help if you created multiple campaigns for Buyers, Sellers, FSBOs, and Investors to get the best results.
Spending a couple of hours creating and organizing campaigns now will increase the efficiency with which you execute them and their resultant success.  
Titles of Our Power Real Estate Letters
Following are titles of 10 of 50 Sample Power Real Estate Letters and Matching Real Estate Article Reports in This Fifty Letter Set

1.    Buying a Home Online
2.    Buying a home from the U.S. Government
3.    Real Estate Appraisals
4.    A Few Things to Avoid When Buying a Home
5.    A Few Tips for the First Time Home Buyer
6.    Open Houses - How to Make the Most of the Visit
7.    Home Warranties - What are They and Do You...
8.    Ways to Make the Most of your House Hunting Trip
9.    How to Find All the Details about the Neighborhood Before...
10.  Mistakes People Make When Buying a Home
Ways To Use Our Letters & Reports

These Letters and Matching Real Estate Article Reports can be used as:
Real Estate Prospecting Letters
Drip Email Campaigns
Newsletter Articles
Web Site Content
Blogging Content
Flyer Articles ... and more
Why Use These Letters?

Because each letter and article report is content rich and perfect for building relationships with readers - which is precisely what you want to accomplish with your direct mail campaigns. 
Can You Write Your Own Letters?
You can, but why?  It would take a longggggg time to Write Fifty Letters plus 50 Matching Real Estate Article Reports; probably more than you can devote to it.  Arguably, your time would be better spent devoted to things that will generate money to pay bills; like networking, advertising listings, showing properties, prospecting buyers and sellers, holding open houses, sitting floor duty, canvassing neighborhoods, touring new listings, cold calling, etc.

So, who has time to write letters?  I did!  I also hired some super-talented writers to write and rewrite some articles, including some of these.

Summation
So, there you have it.  Our 50 Power Real Estate Letters with Matching Reports are content-rich.  Plus, they generate and convert leads to paying customers. 
Special Limited Time Offer $79  $29
Click here to order!

Try Them Risk Free for 90 Days!
f you are dissatisfied with your purchase for any reason we'll Immediately Refund 100% of Your Money with No Questions Asked.