Get an Expired Listing This Week

Want to get an Expired Listing this week?  It's possible, but you need a system, or letters to do it with.

Don't have either? Don't worry.  Letters are affordable and easily within reach.  In fact you can purchase and download some in the morning and be ready for your first campaign by noon.
Where To Find Expired Listings
Finding expired listings is a "no brainer".  All you have to do to is run an Expired Listing Report though your Multiple Listing System (MLS) for any time period you want. 

The report will provide everything you need to know, including the home owner's name, address, phone number, type home, current asking price, price reductions that may have taken place, etc. Everything you need to know to effectively work expireds will be contained in it.  
The Plan To Ensure Your Success

Starting today, mail a minimum of ten letters a day, five days a week to owners of expired listings.   The more you mail the sooner you'll start seeing favorable results.

On days when there are fewer than ten current expireds consider mailing letters to owners whose properties expired three, four, five and even six months ago.  

The further you go back the fewer properties there will be available for relisting, but when you find some they may be easier to list than some of the current ones.

Getting Started

Many agents will never seriously consider farming expired listings, while others start but don't sustain their efforts to get them. Consequently, there may be less competition for them than you might expect.

When you first begin your Letter Campaign you may want to start by pursuing most, if not all, expireds.  You'll accomplish a couple of things when you do.  One, you'll start converting some to new listings quicker; and two, the more you pursue the more you'll list. 
Develop a Middle Game – Refine Your Strategy
Once you start getting some listings you can begin refining your strategy by cherry picking the listings you pursue and accept.
Cherry picking is where you sort through all of the expireds and select the best of the best to target.  Ultimately, you'll evaluate them based on the MLS Reports you generate, which gives not only the owners names, addresses and other contact information, but also descriptions of their homes; including problems, upgrades, price changes, amenities, pictures, etc.
End Game and Final Word
A final point a is "never accept an over-priced listing – ever!"  If you do your the quality of your work life will begin deteriorating rapidly, as will your bank account. 
Specifically, you'll be contractually bound to owners who you'll never be satisfied with what you do.  They won't like you and you won't like them, or yourself for accepting an overpriced listing.
The owners expectations and demands will chaff you as being unreasonable, as it is extremely tough to sell an overpriced property in today's market! 
Well, that's it for now, but before you go... 
Check Out Our Expired Listing Letters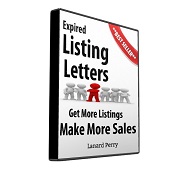 They're ready for download and immediate use! Click here to read more about them!
Home Page > Expired Listings >> Get an Expired Listing This Week