Farming Expired Listings 

Farming Expired Listings is one of the best real estate marketing strategies real estate agents can use! And it's easy.  If you can mail letters, you can convert expired listings to new ones. 
However, patience is a virtue. And although you may be lucky enough to re-list an expired listing within a week or so of starting your expired listing campaign, it may take a while for your process to mature to the point where you start getting real estate listings consistently.

Make farming expireds a mainstay of your marketing efforts. You should be able to develop a steady stream of prospects within 1-2 months, depending on your local market conditions. 


However, every expired listing system is not a good one. Some come with complementary letters ready for download and immediate use.  Spend a few minutes personalizing them, and you'll be prepared to start your letter campaigns.

Every real estate agent needs listings, and it stands to reason the more you have, the more money you'll make. On the other hand, the fewer you have, the lower your earnings.  
A proven, effective system can help you get listings – period! New agents can get off to good starts, and veteran agents who have been around for a while can reboot for a fresh start or a new stream of leads.
If you can conceive it, you can achieve it! So, imagine listing signs with your name on them dotted throughout your community. They will give you instant credibility and help you generate more listings and sales.
Everybody likes doing business with a winner, and farming expired listings can help make you one.
Lanard, "Your course is really terrific. In the past ten months using your system, I have acquired over thirty expired listings and have closed over 27 so far. I've tried other systems in the past, But nothing even compares to yours. I've become know as the expired listing king in my county by fellow realtors. Once again hats off to you and your course."
Bill Steinig
Crye*Leike Generation Realty, Inc.
wrsteinig @ yahoo.com
Learn more about Farming Expired Listings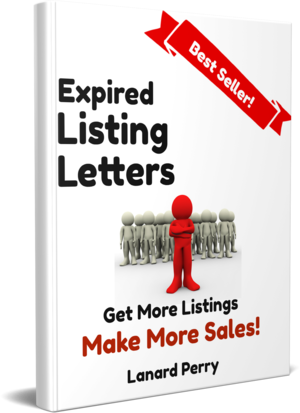 The sooner you get started the faster you'll start getting listings!
Expired Listings Letters can help you get more prospects, sign up more listings and make more sales.  These particular ones have helped some agents generate two or more listings a week, often without cold calling or cutting fees to get the listings!  Expired Listings are easy to get, as the Owners are already Realtor friendly and more motivated to sell than before.

Farming Expired Listings Comments, Suggestions, Ideas & More!
Ask a question, leave a comment or share an idea. When you do I'll create a personal website page for you, which is great for getting your name published across the Internet - picture and all. Thanks for being apart of the Real Estate Marketing Talk Community.
Other Farming Expired Listings Contributions
Click below to see contributions from other visitors to this page...

The most successful real estate agents have lots of listings, and although getting them is easier said than done, it's relatively easy to do - if you have the right system!  This system works to near perfection.
Related pages you might like
Home Page > Real Estate Letters  >> Farming Expired Listings