Successful Open Houses!

Steps To Successful Open Houses; by Lorraine (Vista, California).  Agents and brokers can be divided on the benefits of holding them. My philosophy is if you are going to do one do it right, or not at all. So, many agents do not do the necessary planning that is required.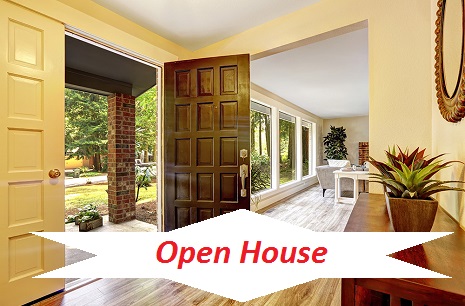 Here are my steps to that will garner you multiple opportunities with ample traffic:

1. Planning and more planning.

2. Three weeks prior to Open House send out at least 100 invitations to the local neighbors inviting them to come by.

3. Advertising is important, post the Open House on line in the papers in your MLS.

4. Put a sign on the property that an Open House will be held on.

5. This is important on the day of the Open House put out at least 40 yellow signs, with enticing leads: such as: 5 Bedroom ahead. Backyard party fun. I think you get the idea.

6. Hire a human sign to direct traffic to the Open House, the minor investment will paid huge dividends.

7. One week before go through the neighborhood and introduce yourself and remind the neighbors of the upcoming Open House with a flyer.

8. Be prepared have at least five homes that are above the price point, and five homes that are under the price of that home so if someone comes to your open house and want something that is out of the price range of that home.

9. Make sure that the seller have prepped the home and it shows well.

10. I am not a fan of food; it is messy and can be a distraction, but if it's something that you want to do make it simple.

11. Greet you guest with a survey – ask that they walk through the home and give you feedback. Great way to get good info.

12. If you can combine your Open House with an office caravan or your local real estate board caravan so much the better.

13. Have a lender on hand, so that if a client needs info on getting a mortgage you' re prepared.

14. Make sure that you have a contract at the ready so that you write a contract on the spot.

15. Have a contest – when will the home sell, price etc.

16. A successful Open House will be yours --- follow the system and have fun.
More Expired Listings = More Listings and Open Houses

Pages you might like...
Real Estate Open House Flyers     
Real Estate Agent Flyers    
Real Estate Flyer Ideas     
Home > Real Estate Marketing Tips > Successful Open Houses