Real Estate Letters...
Effective In Good and Bad Markets
Real Estate Letters are Proven Lead Generators - in any market!  Yet surprisingly few agents use them.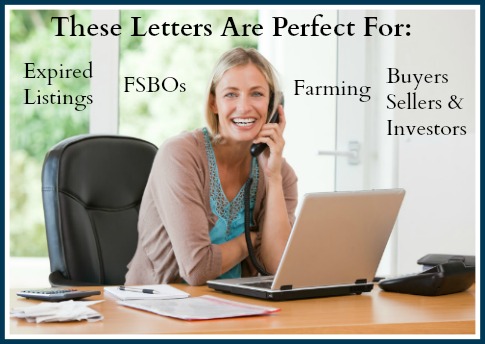 Here's why!

1) Effective letters aren't all that easy to write. I spent months perfecting some of the letters below and while I took the time to write them many agents can't afford to spend that kind of time tweaking a few letters.
2) Writing prospecting letters is outside the comfort zone of a lot of agents.  Their strengths are interpersonal communications, face to face interactions with buyers and sellers, negotiating contracts and closing deals...not writing letters. 
3) Finally, while agents may initially be gung ho about writing and mailing letters some quickly give up when they don't get immediate results; securing a new listing, getting a buyer or making a sale.  So, they stop after mailing just one or two letters, thereby never giving themselves a real chance to succeed.
In a hurry? Click here to see the letters now!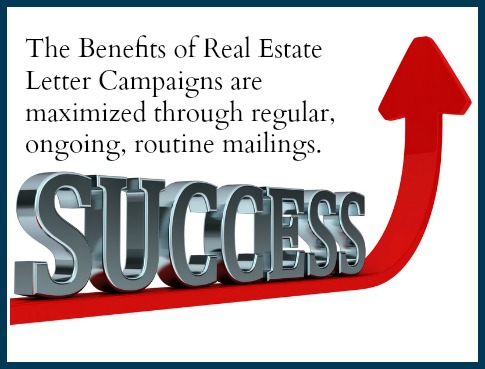 To maximize results you should focus on a targeted, niche audience.  But why limit yourself to a small fraction of the market when you can capture a larger segment of it with the same, or less effort? 
Through a coordinated letter mailing campaign that focuses on several different markets...like Expired Listings, For Sale By Owners (FSBOs), Vacant Property Owners, Former Clients, Targeted Neighborhoods and/or Farming Areas, Distressed Properties, Commercial Properties and Vacant Land you can establish multiple streams of leads.

By focusing on several lead generation channels simultaneously you'll achieve recurring lead generation channels.  When one dries up others may be still be generating leads so that you'll always be generating leads, one way or another.

Pre-written Real Estate Letters
Below Are The Real Estate Marketing Letters Needed To Dominate Your Local Market  

Real Estate Listing Letters. This is the Multi-Letter Set I used to generate on average 2 Plus Real Estate Listings a Week. It includes expired listing letters, a fsbo letter, a vacant property letter and more.  Click here to learn more.............................................Buy Now!

Expired Listing Letters. This is a Five Letter Set that includes a main letter and an alternate, four followup letters, an Expired Listing Log, a Marketing Update Checklist that will enable you to quickly update your sellers on what you're doing to market their properties with minimum effort, and an Ebook Overview that includes a script of what to say when sellers call you.
Click here to learn more................Buy Now!
50 Power Real Estate Letters. This Fifty Letter Set is perfect for establishing yourself as an agent of choice.  You can spend an untold number of hours writing them yourself, or you can buy and use these in the same day. 
Click here to learn more........................Buy Now!

Exit Real Estate Letters and Visit Real Estate Marketing Talk Home Page