Getting Busy with Sample Real Estate Letters

I got my restate license and started a few weeks later as a salesperson with Century 21.  I was excited about having passed the exam and getting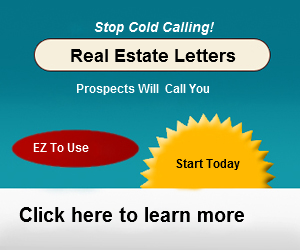 a job. It was entirely commission based, but I was still feeling good about it.  And before you know it there I was on the first day of work in my new office, dressed for success but with no one to impress but other agents. 
It was exactly like I had scripted, except for I had zero leads and of course no listings.
So, you can understand how I I might have been just a tad disheartened. At the rate I was going it was going to be months before I generated any income.  
Days became weeks and my disappointment turned first to concern…then to a sense of urgency that quickened with each passing week. 
I needed leads and listings and I needed them fast.  So, I went to school again, but this time it was the school of hard knocks.
Specifically, I researched ideas for being successful as a newly licensed agent; Iike canvassing neighborhoods, cold calling FSBOs and Farming Expired Listings.
Unfortunately, none of them seemed likely to generate fast business, but hey, I had to start somewhere.
A Search for Sample Real Estate Letters     
Eventually, I settled on farming a couple of neighborhoods near the office I worked. They were middle class neighborhoods in terms of price and social status, and accordingly they were attractive to new and move up home buyers. 
I wanted to use letters as part of my overall plan, but I didn't have any.  So, I started looking for templates to help me, but during that time there weren't many available and the few I found were so poorly written they would have been a waste of time and money. 

Samples Of My Personal Real Estate Letters That Generated 2 Listings Per Week

When I found no letters that fit my needs I wrote my own and managed to list 2 properties a week with them. And now share them with you and other agents who followed. I'm now retired, so I'm not giving any business away.  Below are a few examples of letters I've written over the years:   
Sample Real Estate Letters for Buyers, Sellers & Investors
The letters in these sets reflect how I evolved from a salesman first mentality to one that educated my leads in order to make a sale. And that was because I finally accepted that buyers and sellers were interested in what I could do for them versus what I wanted, which, I shamelessly admit was a desperate need for a sale!
So, as my writing evolved I started incorporating tips that would help them get through the sometimes difficult, but always challenging process of buying, or selling a home.
I became an educator first, then a salesman…and do you know what?  The combination of providing useful information worked so well that whenever I needed more leads I'd simply mail more letters. So, I challenge you to get busy and become one of the Top Producers in your market!

Home Page > Real Estate Letters >> Sample Real Estate Letters