Best Sample Real Estate Letters?

Our Sample Real Estate Letters might not be the best, but they're pretty darn close to it if not!  Here's my story of success using them!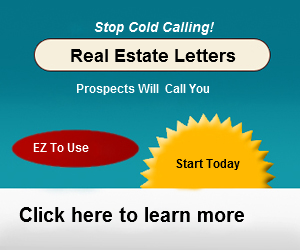 I got my restate license and started a few weeks later as an agent with Century 21. 
I was excited about having passed the licensing exam and landing a job in a great office. It was entirely commission based, but I was still feeling good about it.  And before you know it there I was on the first day of work in my new office, dressed for success but with no one to impress but other agents. 
It was exactly like I had scripted, except for I had zero leads and of course no listings. So, you can understand how I might have been just a tad disheartened after my first couple of weeks with no action.
After a couple of weeks my disappointment turned to concern… I needed sales and I needed them fast as my concerned amped up and I started feeling  sense of urgency that quickened with each passing week. 
So, I went to school again, but this time it was the school of hard knocks. I researched ideas for being successful as a newly licensed agent: door knocking and canvassing neighborhoods, cold calling FSBOs, Farming Expired Listings and the like.
Although none of them seemed likely to generate fast business, I found a strategy that felt in sync with my personality, which was sourcing leads and listings through real estate letter mailing campaigns. But I had a problem... I didn't have any letters! 
An Earnest Search for Sample Real Estate Letters     
So, I started looking for real estate letter template and when I found none to my liking I wrote my own and started generating leads, getting listings and making sales!
Here's a Sample Real Estate Letter from the Set of 50 Power Letters mentioned below. 
Effective Real Estate Sample Letters
Below are letter sets you might like.

Sample Real Estate Letters for Buyers, Sellers & Investors
The letters in these sets reflect how I evolved from a salesman first mentality to one that educated my leads in order to make a sale. And that was because I finally accepted that buyers and sellers were interested in what I could do for them versus what I wanted, which, I shamelessly admit was a desperate need for a sale!
So, as my writing evolved I started incorporating tips that would help them get through the sometimes difficult, but always challenging process of buying, or selling a home.
I became an educator first, then a salesman…and guess what happened?  The combination of providing useful information worked so well that whenever I needed more leads I'd simply mail more letters.
Are you wanting to change the trajectory of your career?  Then consider a real estate letter marketing campaign to add buyers and sellers to your sales lead pipeline!

Home Page > Real Estate Letters >> Sample Real Estate Letters