Sample Real Estate Marketing Letter
A Sample Real Estate Cover Letter can stimulate new and inventive ways to expand your real estate marketing strategies. Sometimes you can find free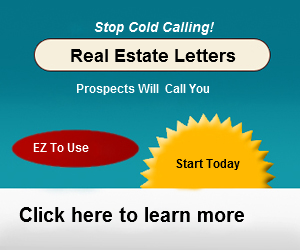 ones, although they might not be good enough to use...
and even well written ones can be improved spending some time refining them.
By doing this you will end up with a letter unlike any others.
A Sample Real Estate Cover Letter can also save you the frustration of trying to write your own. You can take a good one and use it as a template, then generate one letter after another from it! 
It's template letter writing at its best. Once you've established the pattern of the template you can generate as many letters as you need – fast and easy.
Recently, a Realtor client who'd bought my Expired Listing System sent me a sample real estate cover letter to critique. Actually, she sent me several letters, and asked me to give her feedback on them. I forget how she came by them, but she wanted to know if I thought they were any good.
I was stunned when I opened the file and read the first letter! It wasn't very good and the thought of reading the others wasn't very appealing, so I didn't!

Everything about it was wrong and serves as a good example of what not to do! For example: The entire letter was written in CAPITAL LETTERS, an act so egregious people will simply stop reading it and throw it away. 

I was doubly jolted because the entire letter was also written in BOLD FONT! like I said, it was pretty bad!

If you ever come across a Sample Cover Letter like that toss it, and know that whatever else that person is offering, even if it's for "free" you simply can't afford it. That kind of product will kill your business!

But you came to this site looking for something you can use, and I won't disappoint you!

Below is a copy of a Sample Real Estate Marketing Letter. As you can imagine, a pre-written real estate marketing letter campaign can help you save time by freeing you up to focus on revenue generating activities. A good letter campaign can put you money ahead, especially if you are using proven, time tested ones.

This sample real estate marketing letter for farming absentee property owners. It is one of eleven letters that come with the farming expired listings listing system.
---
Today's Date 

Mr. & Mrs. John Smith
XXXXXXXXXXXXXX
XXXXXXXXXXXXXX

Dear Mr. & Mrs. Smith:

It has come to my attention that you are the owners of real estate in Boomer County , MS . My reason for writing is to acquaint you with my services, which could quite possibly save you a lot of money and anxiety as an Absentee Property Owner!

Perry Realty is one of the largest Real Estate Companies in Boomerville, MS . We have three offices strategically located to afford maximum service and convenience to both our BUYERS and SELLERS. We also have 52 offices throughout Mississippi , and our share of the market place grows every year.

The benefits of allowing me to handle your property are many. However, the most important is that I am a full time professional, and have the tools and knowledge to assist you with your needs, thereby relieving you of a potentially stressful situation.

Specifically, I can help find buyers, secure tenants for your vacant properties and/or manage your rental properties for you! Our full time Property Management Division is very efficient and fully computerized, as is the sales department.

In closing, please call when I can be of service to you, and I look forward to working with you as a preferred customer.
Sincerely,

Your Name

PS. This is not a solicitation for the listing of your property if it is already listed for sale with a Realtor.
---
Making pre-written real estate marketing letters a part of your overall marketing plan frees you up up to grow your real estate business.

So here's the question? Would you rather be sending out letters like this one, or sitting in front of a blank computer screen hammering out letters from scratch? I think you know what I'd do.
Home Page > Real Estate Letters >> Sample Real Estate Marketing Letter