Real Estate Agent Cover Letter 
A Real Estate Agent Cover Letter is an effective way to introduce yourself to buyers and sellers... and to establish your brand. 
Generate Leads With Effective Real Estate Agent Cover Letters
Mailing them can be very rewarding - effective ones can generate lots of quality real estate leads. 
On the other hand, ineffective ones can cause you to lose sales and listings that could otherwise be yours or the taking, but for bad, ineffective letters! 
Should You Write Your Real Estate Agent Cover Letters, Or Buy Them?
This is a great question! What you'll discover if you don't already know it writing a Good Real Estate Agent Cover Letter isn't easy.  To be candid, it's more challenging than most agents realize, at least that is, until they actually start trying to write one. 
And when it dawns on them they'll actually need 4-5 sets of letters with 3-4 letters each for their various campaigns it starts tilting the scale towards using proven, prewritten letters.  
It all comes down to this... if you can write your own letters...  
that engage readers 
have Calls To Action that get your desired responses 
and generate new business (appointments; property showings; requests for information, including comparable market analyses, etc.
you should write your own letters!  If you don't believe that you accomplish all of the above you are a great candidate for using prewritten real estate letters. 
As you can probably tell, writing a good Agent Cover Letter is part art and science. Get it right and and you can be on your way to more profitable times. Get it wrong and you'll lose time and money!
Anatomy of Great Agent Cover Letters
For purposes of this article lets say there are three essential parts of a letter: a Headline,  the Letter Body and a Call To Action.  Let's consider each one individually.

The Headline. With a headline you need to convey your point in as few words as possible.  Forget about your High School English Teacher, because the goal now is not to show the world what a talented and eloquent writer you are, but rather to get a lead that you can convert into a paying customer.
In order to write a powerful headline you need to think like your prospect, to know which buttons to push, which words will excite them and which ones will put them to sleep.  But most of all, you have to know how to use those words to make it impossible for them not to want to read the remainder of the letter.
The Body of The Letter.  The body of the letter is where you convey the information you want to share.  Start by repeating the exact headline at the top of the body of the letter. When you do that it reinforces the headline and reminds people why they are reading the letter in the first place and preparing them for the call to action.  
The Call to Action.  The purpose of a Call to Action is to tell your readers exactly what you want them to do next. Never assume that they already know what to do.  Design your Call to Action so that it takes them by the hand and leads them to where you want them to go. Examples include:
This great deal won't last now. Call now to schedule an appointment to see it!
Text ##### for more information on this outstanding home!
Email nnn@nnnn now for more information 
When possible you should combine your Call to Action with a free offer. This takes the pressure to respond off of them. After all, you're not selling anything, you're giving something away. 
Maybe it's a free real estate marketing report , or it could be entry into a drawing for a discounted commission offered to folk who list with you during a specific time frame.   
To close I want to revisit the question asked above after having read this article: "Should You Write Your Real Estate Agent Cover Letters, Or Buy Them?"
 Here Are Some Real Estate Agent Cover Letters You Might Like If Your Answer is You Should Buy Them!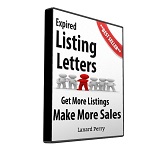 Expired Listing Letters
Click here for more about our Real Estate Letter Sets! 
Home > Real Estate Letters > Real Estate Agent Cover Letter    
Image of woman typing on keyboard courtesy of adamr at FreeDigitalPhotos.net