Real Estate Leads Generation;
Power Up The Leads
Finally... A Quick, Simple Solution To Your Real Estate Leads Generation Needs ... and At An Affordable Price!

If you've been looking for simple, yet powerful Real Estate Leads Generation Strategies then you've come to the right place.
Hi!  My name is Lanard Perry and what you're about to discover is so good, affordable and effective you'll probably call me and ask how can I afford to reveal this information for this price.  But I'm getting a little ahead of myself, so please allow me to digress for a few seconds.
When I first got my real estate license I was like a proud kid graduating from high school.  I'd finished some didn't, which pass the licensure exam, and was excited about the opportunities ahead of me. I dreamed of sales with big commission sales and they were much closer to a reality than they had been 3 months before.
All that was left to do was get some leads & close some deals.

Now that I look back on it I have to admit that I was pretty naive.  If it was so simple everybody and their cousins, aunts and uncles would be selling real estate, too.  Sometimes it feels like they are. 
It's hard to say this, but I was totally unprepared for how difficult it was to get leads. Not just any lead though, but ones that eventually convert to paying customers - buyers and sellers. 
So, I started learning as much about How To Get Real Estate Leads as I possibly could.  A lot of what I learned is best reflected in this
Real Estate Leads Generation Book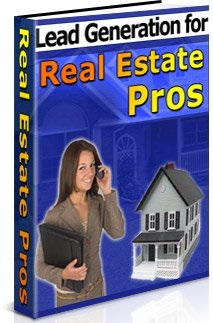 which I now make available to you. The price point of is such that it's a No Brainer to own.  If you find something that'll help you as much as this will at a better price you should jump on it right away. Any and all education about how to succeed in real estate sales will benefit you for years to come.
A Sneak Preview
Below are 5 No to Low Cost ideas that are sure to boost your business by generating leads.  Specifically, they include Lead Generating Ideas related to Newsletters, Email Marketing Campaigns, Real Estate Web Sites, Real Estate marketing Reports and Real Estate Post Cards.
Let's examine each a little more closely to discover how they can be effective lead generating strategies for you, too.
Real Estate Leads Generation via Newsletters
Newsletters are a great way to Generate Real Estate Leads .  Essentially, the idea is to attract subscribers, leads and prospects via your own Newsletter.  Once they sign up you can communicate with them on a regular basis.  And as you know regular contact with prospects helps to develop meaningful relationships with them, and once they know and trust you they're likely to do business with you. 
I've been publishing My Newsletter (Farming Expired Listings; Real Estate Biz Tips) since January 2005 and have had more than 3000 subscribers at a time, a number that I'm proud of; especially, when you consider that I knew absolutely nothing about list building when I first started my Real Estate Internet Marketing Business.  Still, there are marketers who'd scoff at a list as small as mine. 
If you want to get a sense of what mine is like to stimulate ideas of your own you can sign up for it here.  It's FREE right now, but that is subject to change any day.  So, I encourage you to sign up today and discover some more Real Estate Marketing Strategies at the same time you see how I communicate with my subscribers.
Real Estate Leads Generation via Email Marketing Campaigns
A good beginning to real estate email marketing is the simple act of putting your signature containing a link to your Web Site in all your email messages.  Then, when visitors get to it you should have plenty of content to educate them about all things related to real estate.  And of course you should offer your availability to assist them with their needs.
Another strategy is to use a sequential auto responder in your Email Marketing Campaigns, which is an emailing program that allows you to provide requested information to prospects and leads almost immediately upon request, 24/7.  And the beauty of it all is that once you do the work for one prospect it's the same as having done the work for thousands of leads and prospects. 
If there's only one thing you can do to make a difference in your results it should be to read more about sequential autoresponders, get one and use it.  It is arguably the Beat Real Estate Leads Generation strategy going.
Real Estate Leads Generation via Real Estate Web Sites
A Web Site is another good Lead Generator. In the bricks and mortar world location, location, location is key to selling real estate.  But on the Internet Web Site Content reigns supreme.  Good site content can generate visitors that can then be converted first to leads and then to paying customers.
You should update your site frequently with fresh content so that every time your visitors come back they will find something new and different. This is the most widely known and most effective method of attracting returning visitors, but this is also the least carried out one because of the webmasters inability to write or afford lots of content.
However, time and money becomes a moot issue when it comes to some Pre written Real Estate Web Site Content.  No one will want to browse a site that looks the same year after year, so keep your site updated with fresh information!
Real Estate Leads Generation via Real Estate Marketing Reports
Marketing Reports are good Lead Generators, too.  Writing  effective Web Site copy is neither something you can do fast, or easily.  Fortunately, there are several places on the Internet where you can get Pre-written Real Estate Marketing Reports that are ready for immediate upload to your Web Site.
It usual times it can months to write effective web site copy,  but you can purchase them online and be ready to upload them to your site within a matter of minutes.  Instead of struggling to write one article you can be uploading hundreds Real Estate Marketing Reports to turbo charge your lead generating campaigns.
Real Estate Leads Generation via Real Estate Post Card Marketing
Finally, Post Card Marketing is another Real Estate Leads Generation tool worth considering.  Communicating with prospects and having them respond back to you has never been easier. Plus, its easy to personalize post cards with a color photo, contact information and a personal note with your signature.   Y ou can also provide contact information so that prospects can contact you for more information on buying or selling their next home.
So, now that you know what's in store for you need to get your own copy of the Real Estate Leads Generation Book.  It's guaranteed to increase your business and is priced so Affordable the only sensible thing to do is get it right now at this low, low price.
Get Your Copy Today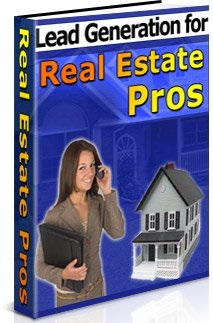 Try Lead Generation For Real Estate Pros risk free with my 100%, Ironclad money-back guarantee.  There is no reason not to try Lead Generation For Real Estate Pros. It is 100% risk free and my Ironclad guarantee assures you total satisfaction. 
If for any reason you are not satisfied, just contact me. I will refund 100% of purchase price, quickly, no hassle, no questions asked. That's how confident I am about this product .
Try Lead Generation For Real Estate Pros today...
Try it out for three full months - absolutely risk free.  You have an entire three months to use Leaf Generation For Real Estate Pros risk free. If at anytime you feel unsatisfied, let me know and I will refund 100% of your purchase. It's as simple as that.  I guarantee you will love this ebook.
You can't Lose With Our 12 Week Money back Guarantee
Normal Price: $39.00
Today Only $18.00

Here's how to order right now!
Click here for an instant download of the digital book. Once your credit card is approved, you will be taken to a special download page where you will download the digital book.

INSTANT ACCESS
Purchase Online with Credit Card by Secure Server
Click Here NOW to download your copy!
It doesn't matter if it's 2:00 a.m. in the morning!
You will be downloading and reading this incredible resource within just a few minutes..