Use Real Estate Marketing Reports to Generate Buyers & Sellers
Real Estate Marketing Report.  Over 71% of today's real estate buyers and sellers use the Internet to gather information before

buying and selling real estate!  
Consequently, Internet savvy and computer literate real estate agents and investors are aggressively pursuing this large and lucrative niche population by offering related information that informs and educate potential buyers and sellers. 
Specifically, they use Pre-written Real Estate Marketing Reports in various way...as letters, email messages, articles, web site pages and buyer and seller.  All tactics are great Real Estate Internet Marketing strategies.
Buyers and sellers have many choices in today's market, so if you can't quickly deliver information that they are looking for they will go elsewhere. Smart agents are instantly delivering the information they need, no matter the time of day, via auto-responders.
Proven Effectiveness.
Real Estate Marketing Reports are a great way to establish relationships with prospects. And as you know selling anything only happens after you establish relationships with your clients and they've come to trust and like you! 
The better your relationship with them is the more likely they are to do business with you. 
The biggest benefit to these particular Real Estate Marketing Reports is that they are content rich and chock full of useful information and easily establishes you as a helpful, competent and trustworthy agent.
And best of all they you are able to provide good, swift information almost effortlessly!
Hard sell tactics are noticeably missing in these reports, as prospects want information, not sales pitches. If they get just a wiff of you being insincere or pushy just so that you can get a commission they'll cut off all ties with you.
Online Internet Marketing.
Email marketing is one of the cheapest and most effective real estate marketing strategies available today, but many agents are unaware of just how much it can impact their earnings! 
Specifically, email addresses are the life blood of real estate Internet marketing. With email addresses you can get your marketing message in front of as many prospects and customers you can generate with little to any cost after the initial investment...repeatedly! You can't say this about any other form of marketing.
Real Estate Marketing Reports are perfect online internet marketing materials!
It takes, on average, 6 or more contacts with prospects before they will do business with you, which generally applies to both online and offline real estate marketing. So, the more contacts you have with prospects the more likely you are to get the response you want!
Put your reports in auto-responders and you can turbo-charge your online marketing messages and automate a lot of your follow up marketing activities. In fact, you could and should have multiple email marketing campaigns going simultaneously to maximize your earnings.
What is an auto-responder?
An auto-responder is an automated email system that will enable you to provide information to your real estate prospects (buyers, sellers, investors, tenants) via email…automatically, any time of day or night… and you can automatically follow up with them as many times as you want and for as long as you want…completely hands off! This is also what is sometimes referred to as "drip email campaigns."
Yes, that's right, it's all done AUTOMATICALLY once you set it up. Real estate marketing auto-responders are like the Energizer Bunny; they just keep going and going until you program them to do something different.
Below are a few marketing ideas on how to get the most out of your Real Estate Marketing Reports
Free Real Estate Marketing Idea #1. You could set up a 7 Part Report series for Sellers in an auto-responder titled "Selling Your Home For Maximum Dollar." Then, advertise it as "FREE Report; How To Sell Your Home For Maximum Dollar" and give your auto-responder address as the one that interested prospects can email for the information.
Also, advertise the report in all correspondences and it will soon take on a life of it's own. Over time you'll amass lots of names of sellers interested in selling homes, which is the point of marketing anyway, right?
Okay, here's the test to see whether this might work for you! Check your newspaper classified ads. How many ads like this, or similar do you se? None to a few, right? Right!
But you don't have to be limited to newspaper ads. You can advertise on television, radio, via flyers, post cards or as part of your regular farming campaign.
Do you think people will sign up for it if you were to offer it? I would!
And can you see the advantages of getting your name and marketing materials to them up to 7 times in 7 days, or whatever time frame you select? I can, too!
Here's another free real estate marketing idea for using Real Estate Marketing Reports
Free Real Estate Marketing Idea #2. Set up a 10 Part Report for Renters titled something like "It's Easier To Own A Home Than You Think" in an auto-responder. Then select a high rent apartment complex. Mail the apartment dwellers a letter, post card, flyer mailer or whatever you want offering them your FREE Report on how they easy it is to buy their first home.
Repeat this monthly for at least 6 months!
Be sure to show the auto-responder email address as the email address to use to get the reports. And in order to get the information they must give you their email addresses, then you're set to begin building relationships with them to convert them to paying prospects.
Now, forget about it!
What happens next might amaze you. Prospects will start signing up for your reports, and calling or emailing for personal assistance. And they will call and/or email you, especially when you convince them during your email marketing campaign that they really are better off paying the same or less money to own a home than to rent one.
Think you could get tenants paying $1,200 to $1,600 a month in rent interested in buying a home for the same or less money?
Again, today's buyers and sellers have many choices, and if they can't quickly and easily find the information they seek they will go elsewhere. The beauty of using pre-written real estate marketing reports is that you can instantly acquire for immediate use seller reports, buyer reports and even investor reports.
And the best way to deliver the requested information is, is via auto-responders; 24/7 with minimum effort and cost!
You can set up a whole sequence of auto-responder messages going out on any day you choose. For example, message #1 might go out immediately, then message #2 goes out the 2nd day, next message #3 goes out on day 3, then day 7 comes another message, etc, etc.
In fact you can set up as many different marketing campaigns as you want, and your use of them is only limited by your imagination.
When prospects respond via email to the auto-responder email address they will begin receiving the 7 part report automatically and within the time span you set it up to mail the reports out.
I've been using the GetResponse auto-responder services for several years and am currently running a series of several real estate marketing reports using their services.
I'm very happy with it. It's pretty easy to use once you get the hang of it, relatively inexpensive and comes with good customer support.
I've scoured the Internet for good, quality reports that are versatile enough to use as reports, mailers, email marketing campaigns, etc. and present some of the best ones below!

50 Buyer and Seller Real Estate Marketing Reports/ Articles/Web Site Content. Educate prospective Buyers and Sellers on the dos and dont's of buying and selling real estate. They're time saving, economical and proven to be effective converting casual lookers to buyers and sellers. Learn More 
50 Mortgage and Finance Reports Many prospective Buyers don't have a clue about how their credit ratings impact their ability to purchase homes. Making major purchases during the home buying process is also a "no no!" Show them these and other home buying mistakes to avoid! 
25 Credit Card Debt Reports. Generate and convert more leads to customers by sharing little known "credit card" secrets for negotiating better rates, reduced payments, etc. Learn more

All orders come with a 30 Day Satisfaction or Money Back Guarantee!  If you are dis-satisfied for any reason I'll refund 100% of your money with no questions asked!
Get Ready To Order Below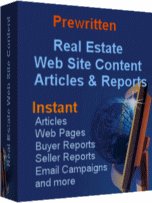 Click here to Order these 125 Real Estate Marketing Reports and Web Site Content Articles, Plus 150 Bonuses Below for Only $97.00!
When you invest in these Real Estate Reports you'll receive another 150 Bonus Report/Articles that will fit into your real estate marketing plans for inclusion in your newsletters, as more real estate web site content, auto responders, etc. Specifically you'll receive
50 Bonus Home Business Articles
50 Bonus Time Management Articles
50 Bonus Getting The Perfect Lawn Articles
Your order comes with a 30 Day Unconditional 100% Money Back Guarantee! If you are dissatisfied with your purchase for any reason I'll immediately refund 100% of your money with no questions asked.
The 125 articles, Plus Bonus 150 Articles are Microsoft Word Documents and are delivered via zip file. So, WinZip is required.
Best Regards!
Lanard Perry
352-283-9316 cell
Home Page > Real Estate Marketing Reports