Be Safe! Practice Social Distancing...
47 Real Estate Marketing Slogans -
Above The Rest

Real Estate Marketing Slogans command attention and can be the single most important factor in establishing a "name brand" and getting careers

off to good starts. Or, they can re-energize stagnant careers and ratchet them up to new levels of success.
Well crafted slogans can propel careers forward in quantum leaps, while poorly considered ones fail like the duds they are. Slogans work equally well on and offline.
Top Producers know the importance of using slogans to create "name brand" and sometimes their names are there brand; like Michael Jackson, Prince, and LeBron. So, when creating your unique brand don't be quick to overlook your own name. If others can do it you can, too.

21 Agent Real Estate Marketing Slogans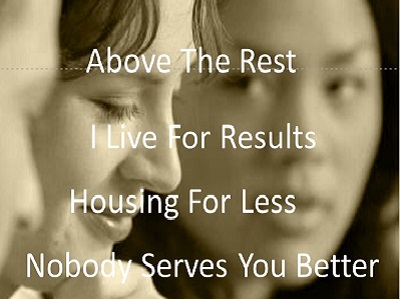 Real Estate Marketing Slogans don't have to be long to be effective in creating huge "brands". Short can be powerfully effective, so sometimes the shorter they are the better they are. Following are 21 slogans that are "A Cut Above The Rest".   

Always A Step Ahead

A Name You Can Trust
A Tradition Of Excellence
Beautiful LA Homes (insert name of any city you wish)

Beautiful Places To Live
Building Dallas  (Insert any city you wish)
Buying Made Easy

Don't Settle - Sell
Everything I List Turns To Sold
Getting The Most Value For Your Property
Get More For Less

Helping You Find Your Home
Here To Serve You
Housing Seattle (insert any city name)
Let's Find Your Dream Home Together  
Local Market Expert

Never Too Busy for You
Results You Deserve
Selling D.C. (insert any city)

Selling Made Easy

Turning Dreams Into Homes

19 More Slogans and Taglines

ADVERTISEMENT
Following are 19 more slogans and taglines to get your creative juices flowing.

    Above The Rest 

    Beautiful Homes R Us

    Excellent Agents. Outstanding Results
    From Start To Finish
    If You Need To Sell, Call (insert your name)

    I Live For Results

    In Another Class
    Move Smarter With (your name)

    Making Every Transaction Go Smoothly
    Nobody Serves You Better

    Turning Dreams Into Reality
    The Realtor For You
    My Experience, Your Dream
    Nobody Cares More
    Own Your Dream Home
    Results, Not Promises

    Sell For More, Buy For Less
    Selling Made Easy
    Your Realtor, Your Home


7 Real Estate Slogans and Taglines -
Major League Companies and Agents

Slogans work best when they're short and punchy. The fewer the words the better the results, like the examples below, which average just 3-4 words per slogan.
Above The Crowd (RE/Max) 
Always There For You (ERA Real Estate)  
It's Your Journey, We're Here To Help (Zillow)
Let Us Guide You Home (Compass)
Real estate For Your World (Century 21)
The Difference (The Altman Brothers)
Where Dreams Come True (Coldwell Banker) 


7 All Time Memorable Marketing Slogans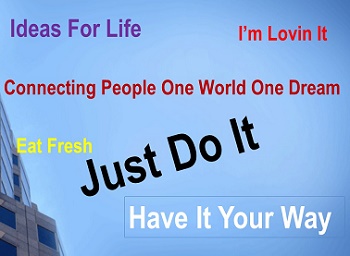 Ultimately, your slogan should be about who you are and should also describe your niche specialty, interests and personality. It can also be about something totally nonsensical and never make any sense to anybody but you. For example, can you please tell me what the heck a Pepsi is? Below are 7 of the biggest slogans ever!

Finger Lickin' Good (KFC) 

Have it Your Way (Burger King)

I'm Lovin' It (McDonalds)
Just Do It (Nike)
Like sleeping On a Cloud (Sealy)  
Save Money, Live Better (Wal-Mart) 

When You Care Enough to Send The Very Best (Hallmark)   
All together you've seen 47 Slogans and Taglines.  Now it's time for you to generate your own.  Here's a slogan generator to help you.  Look within for one that strikes you as right, or look outside yourself for one that will become synonymous with your real estate marketing alter ego.
What's Your Favorite Slogan?
You've read some of mine...what are some of yours?
What Other Visitors Have Said
Click below to see contributions from other visitors to this page...

Two More Not rated yet
Exceptional Properties. Exceptional Clients. (Kerwin & Associates) Local Expertise, Global Presence (Rodeo Realty)
Home Page > Real Estate Articles >> Real Estate Marketing Slogans