Real Estate Letter Campaigns -
Low Tech but Still Effective

What Can a Real Estate Letter Do For You? A lot! If you can mail letters you can get listings and make sales, but until now this might have been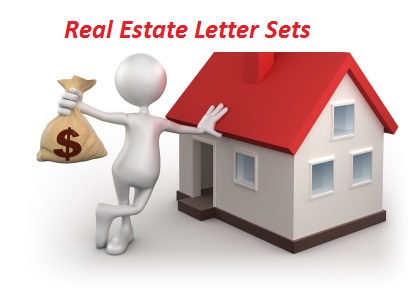 easier said than done.  Well,not anymore because the tediously slow process of writing effective letters has been done for you. And good letters, as you might suspect, can be the difference between success and failure. 
Online since 2005, our letters have helped hundreds of agents with their letter writing needs. We can help you, too. That's why we're extending this  personal invitation to you to try them today at ZERO Risk with our 100% Satisfaction or Money Back Guarantee! Actually, the Guarantee applies to all of our customers. 
For the cost of an inexpensive dinner you'll get letters that will enhance your marketing initiatives and help you grow your business. 
Our Real Estate Letter Sets

Why You Should Use Our Letters

Letter writing campaigns are a proven way to generate leads.  They're easy-to-execute and highly effective in getting prospects; buyers, sellers, investors and tenants. And executing a campaign is literally as easy as printing, signing and mailing your way to increased business and income.
You can tweak our letters with your personal information, print them on your company letterhead, mail them and let them work for you 24 hours a day, 7 days a week and 365 days a year (24/7/365).
With a little more tweaking and s revision you can also use them as autoresponder messages, flyers and even newsletter articles. However you use them they are bound to increase your bottom line - more prospects, listings and sales!
With Our Letters You Can...


Effectively market to targeted audiences by providing timely and helpful information about current market conditions while offering your services as a solution to their real estate problems and needs. Read more…
Have people accepting your offers to assist with their real estate needs by calling you, not just wanting to do business with you but expecting to. Conversely, you'll rarely hear from those not interested. Read more…
Generate as many leads as you want, seemingly at will. If you get too many you can slow down the frequency of your mailings.  And if you have too few leads you can mail more letters and increase the size of your audience. Read more…
Summary  
Being a new or veteran agent with little business can be very stressful, especially when you're spending more money every month than you're making. Our Letter Sets can help you increase your earnings through targeted niche marketing...including prospects who have demonstrated an interest in or a need for your services  

Real Estate Marketing Talk > Real Estate Letters >> Real Estate Letter