Be Safe! Practice Social Distancing...
Real Estate Web Site Content -
Instant Delivery, Ready To Use!

Need Real Estate Web Site Content?  Try ours! It's content rich and written for real estate agents, buyers, sellers, investors, bloggers and webmasters. Every article is perfect for use as real estate website content, articles and marketing reports. It's also perfect content for blogs, flyers, brochures, power point presentations and more - all for an amazingly low price!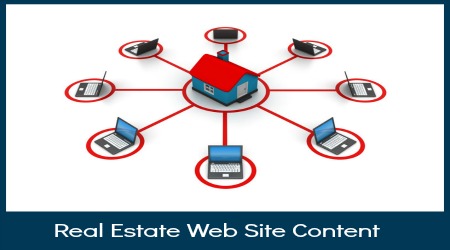 Use As Real Estate Web Site Content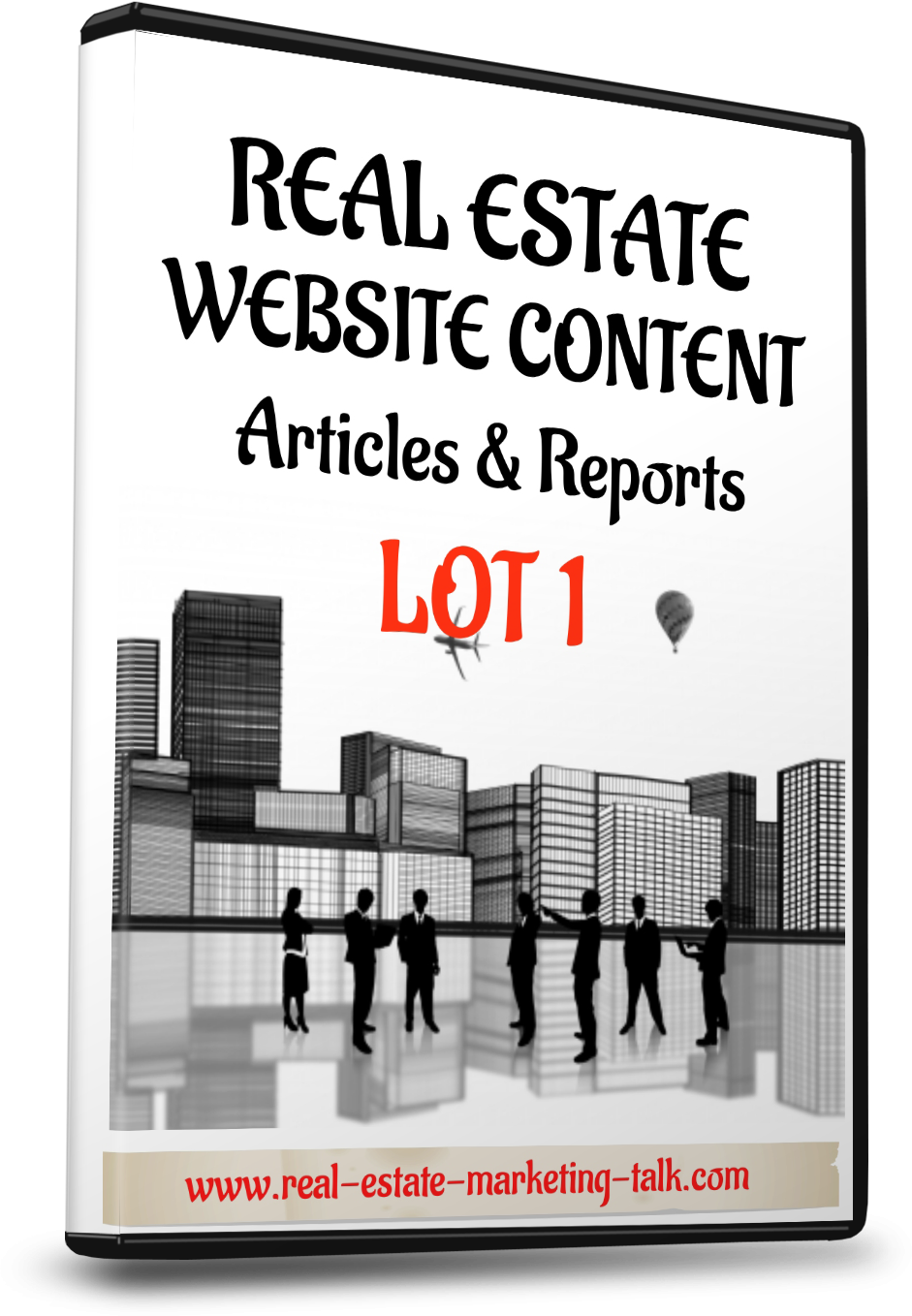 Lot #1: Ten Articles -  Buying a Home Outside The US, Choosing a Listing Agent, Foreclosure-Buying a Foreclosed Home, Buying a Home From The US Government, etc. Perfect content for Blogs, Websites, Newsletters, Drip Campaigns,  Facebook, Twitter, Newspaper Articles, etc.  Read more...
---
More Pre-written Real Estate Articles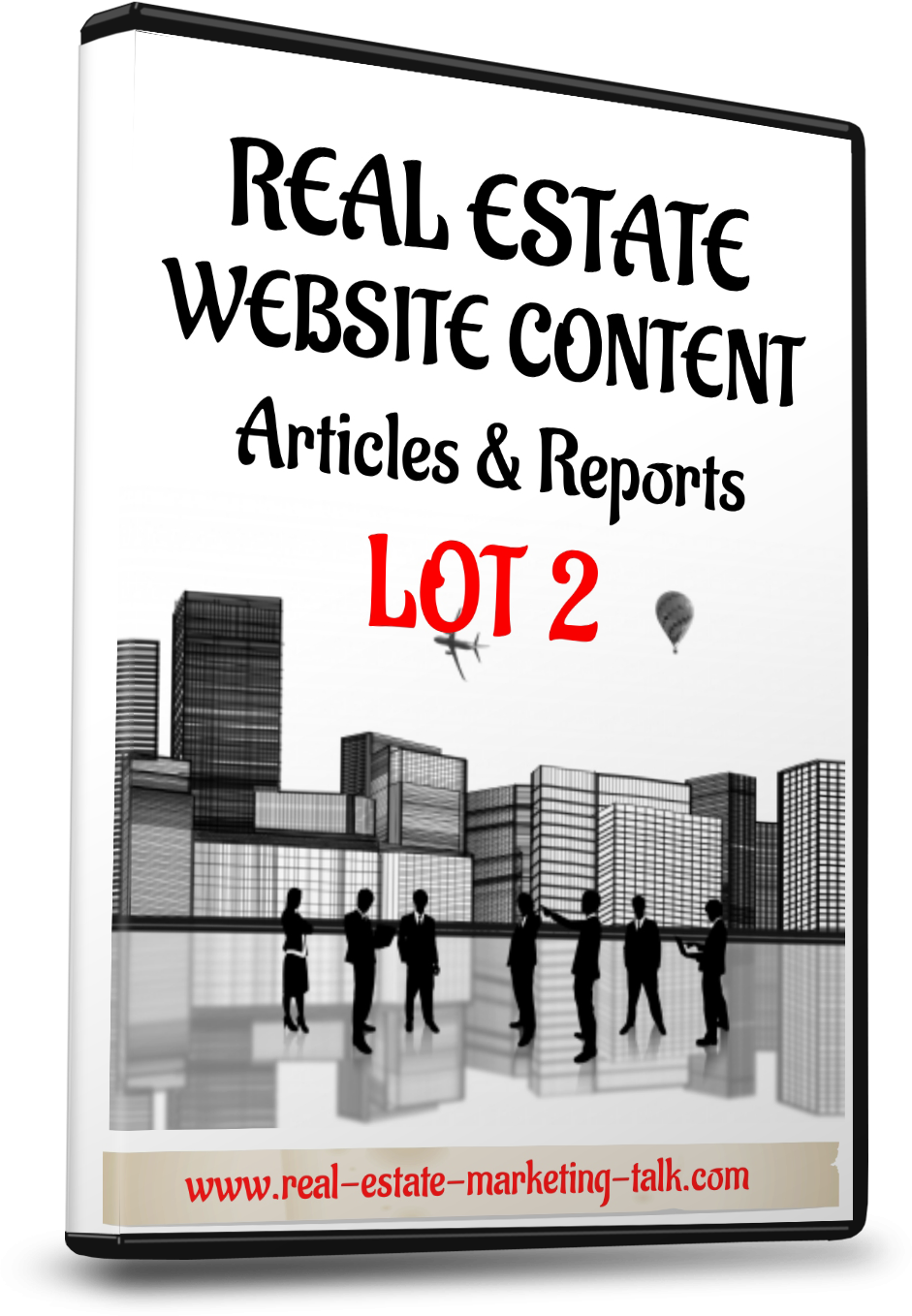 Lot #2: Ten Articles - Open House - How To Make The Most of The Visit, Step By Step Closing For The Buyer and Seller, Ten Common Mistakes People Make When Buying A Home,etc. Perfect content for Blogs, Websites, Newsletters, Drip Campaigns,  Facebook, Twitter, Newspaper Articles, etc. Click image to read more   

---
Use As Real Estate Marketing Reports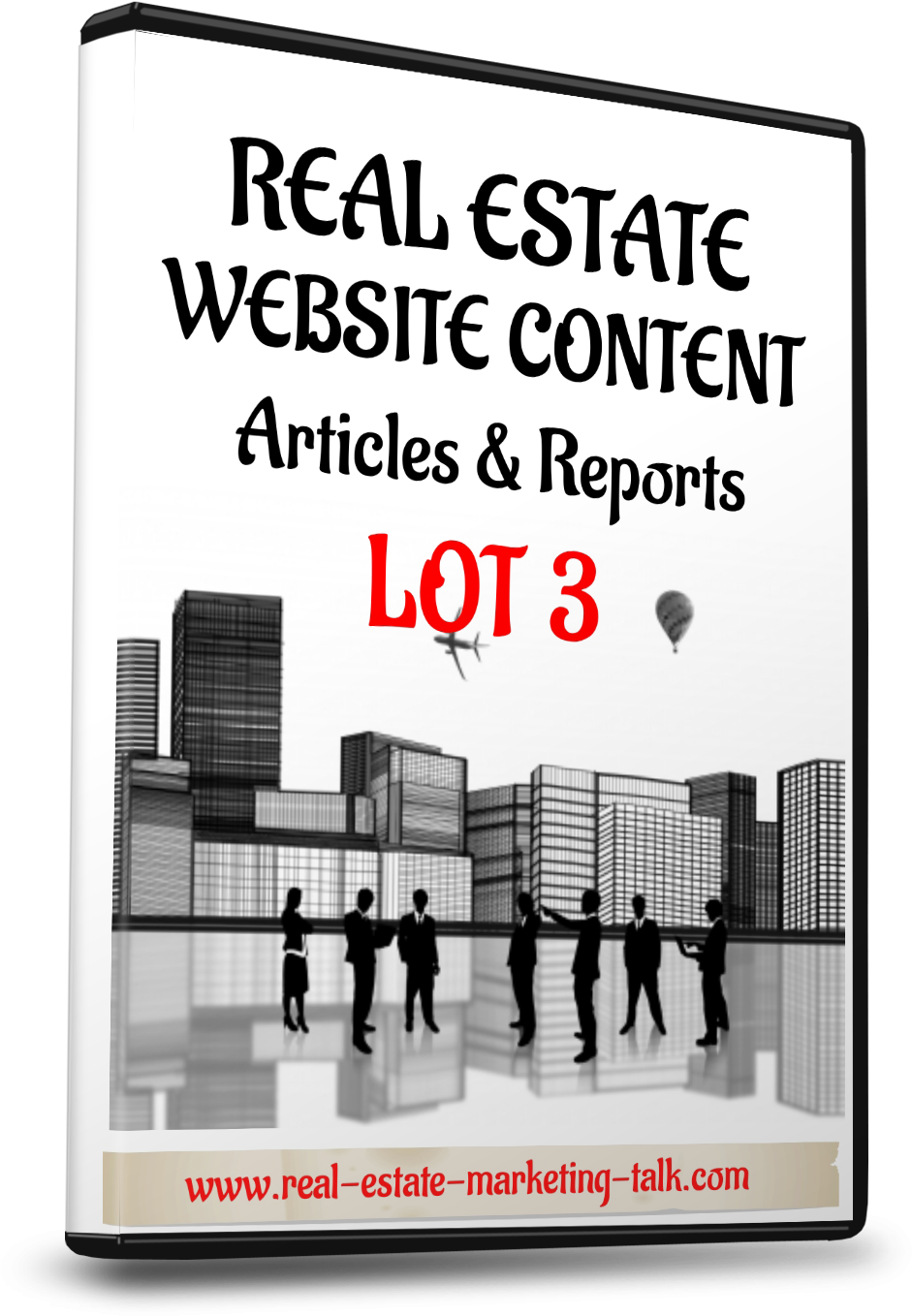 Lot #3: Ten Articles - Subjects include How To Choose The Perfect Real Estate Agent, Closing Costs, FHA Loans, Home Warranties, Interest Only verses Traditional Loans, Loan Fraud, Property Disclosures, etc. Perfect content for Blogs, Websites, Newsletters, Drip Campaigns,  Facebook, Twitter, Newspaper Articles, etc. Click here, or on image to read more.  

---
More Real Estate Web Site Content Articles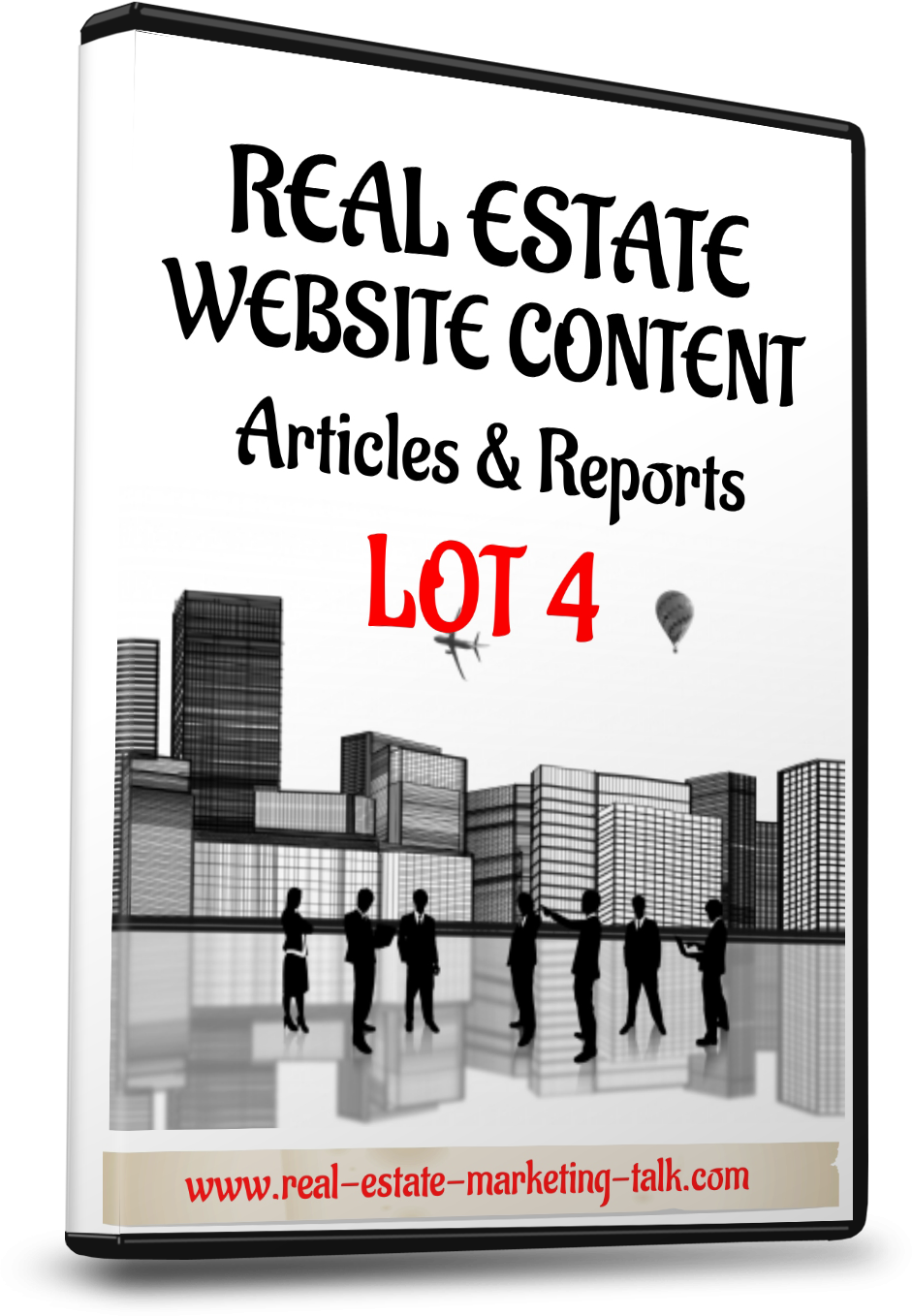 Lot #4: Ten Articles - Don't let not being a good writer keep you from realizing the benefits of real estate articles and website content.  These articles are a solution to your article needs. Click here to see titles. 
---
Credit Card Marketing Reports - People crave credit care card information and these reports represent offer exactly what they're looking for.  Consequently, they're incentive enough to visit your website, read your blog and/or subscribe to your mailing list... and as most marketers know, the money is in your list. Click here, or on image to read more.  
---
At first blush it seems like creating good content is pretty easy. I mean what's the big deal? It's nothing more than real estate marketing articles, letters, flyers and reports uploaded to a web site. Right?
So, when you need web content it's no big deal to pound out a few words and be good to go, right?
Actually, it's not just wrong; it's very wrong...and potentially costly!
Here's what I mean! Generating good real estate site content takes a lot of time and requires skill! Creating it is not easy, and writing really good content is hard to do on a regular basis. Publishing good, useful web site content on demand (quickly) is virtually impossible to do on a regular basis.  It's enough to make even the most talented writers snatch up their computer keyboards and throw them against the wall!
To put it in better perspective let me ask you -   "how long does it take you to write content for your real estate web site?"   An hour?  Sure, if you say so!
I on the other hand I am going to confess right way! It takes me hours upon hours to write good real estate web site content. Slow and excrutiatingly long hours. However, I am admittedly one of the world's slowest writers and need as much help as I can get when writing content for my real estate web sites! I'm not ashamed to say it and it is what it is!
So, if I were to write 275 articles and it took a minimum of 2 hours each it would amount to 550 hours of writing! That's 20 plus full days of writing 24 hours a day to complete 275 real estate articles. 
"This is the easiest and fastest way I know to add hundreds of real estate articles to  your web site.  And the price is right, too."
But I can tell you now that "it's not going to happen!" Just the thought of writing anything for 24 non-stop hours is enough to make my stomach do flip flops, and of course writing 24/7 for 10 days or so will never happen.
So, it should go without saying that I don't get all tingly inside when I sit down at my computer to start writing content for my web sites.  That blank computer screen is intimidating.  Instead of writers block I have a MOUNTAIN blocking my view...until now!
"In today's competitive real estate market content is becoming one of the key elements in returning client to my site. We added web site content thru a very simple process of purchasing pre-written articles thru http://www.real-estate-marketing-talk.com/. Time is always precious in real estate and you are only as good as your last deal.
Buying the downloadable software we added 30 new pages to our sites in the matter of hours. Before our purchase I budgeted 300 man hours to write, review and install content to the site. In Feb 07 http://www.homechoice.com/ is rolling out a national licensing program to expand our markets across the USA and now I have an additional 300 man hours to improve other critical areas on the site.
I would strongly recommend that if you don't have content and time is limited to research, write and review then contact the people at http://www.real-estate-marketing-talk.com/ and add pages to your site today."
Once again I appreciate your service. John
John Slimak
CEO/Owner
HomeChoice.com
Giving You a Choice in Real Estate

Sample Real Estate Articles and Reports
Affordability and Versatility
Use as Real Estate Agent Web Site Content
Given the competitiveness of the real estate sales industry, your real estate web site needs to be eye-catching, inviting, and provide lots of informative and useful information to capture online real estate leads.

The more content you provide, the more more web site visitors will linger, which is exactly what you want them to do. When you give them what they want, which is great content, they'll eventually give you what you want; signing up for your newsletter, a listing agreement, a call to make an appointment to discuss their real estate needs, etc.
Use in Newsletters
Collecting Real Estate Leads via Newsletters is one of the best real estate marketing strategies going.  Real Estate Web Site Content is perfect for using as articles and reports for newsletters, ezines and hard copy alike.  Plus, the information you provide helps convert leads to paying customers. 
Millions of real estate consumers log onto the Internet seeking information about real estate and related products and services; mortgages, buying and selling homes, investing, lease options, time shares, etc.  Smart, forward moving agents are providing this information via newsletters, and the more content they provide the more leads they generate.
Real Estate Search Engine Optimization
Optimized Web Site information can help you get your real estate web site indexed by search engines faster.

However, key to this is the uniqueness and quality of your content. The more original it is the better your search engine rankings will be. Well written, unique content will get you noticed by human visitors and search engine spiders alike, while poorly written content is virtually assured to get you ignored.

Human beings are curious creatures. They will keep their eyes glued to their computer monitors if you post fresh, useful information frequently. Search engines are just as curious, but are also needy in that they must provide good information to their searchers or risk losing them to other search engines
So, they need you and your web site content, like you need them. With Real Estate Web Site Content you can literally have hundreds of pages of great content within a matter of minutes, ready for immediate upload to your web site.
Make Web Site Visitors Happy
The more interactive your site is the more visitors and search engines will like it. With Real Estate Web Site Content you can:

provide answers to frequently asked questions
educate visitors about buying, selling and financing options
provide special reports on the ins and outs of buying real estate  

Plus, you can use them as Buyer Reports, Seller Reports, Email Messages and Reports, Auto-responder Messages, Drip Mail Campaigns, Newsletters, Flyers, Mailers, and of course as Website Content.
More Real Estate Web Site Content Articles and Reports!

50 Buyer and Seller Real Estate Marketing Articles and Reports.  Multi-purposed collateral materials.  Use as web site content, special reports, real estate articles, etc.  Less than $1.00 per article.  

50 Mortgage and Finance Articles and Reports.  Last month there were 1,795,920 searches for the keyword "mortgages"; 1,792,410 for "mortgage" and 142,470 for "mortgage loans." Plus, there are another 237 related keywords searched each and every month.  So, it should go without saying that many of these searchers might also be interested in buying or selling real estate.  Are you converting your fair share of them to leads? Now you can. 
25 Credit Card Marketing Article Reports. 

---
Special Discounted Purchase
Invest in all of these articles for a Special Discounted Price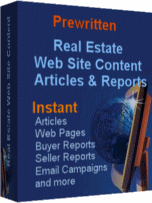 50 Buyer and Seller Real Estate Marketing Articles and Reports
50 Mortgage and Finance Related Articles and Reports
25 Credit Card Debt Articles and Reports
150 Bonus Articles and Reports
Click here to order - $197.00

Home Page > Real Estate Web Site Content