Ten Prewritten Real Estate Articles -
Lot #2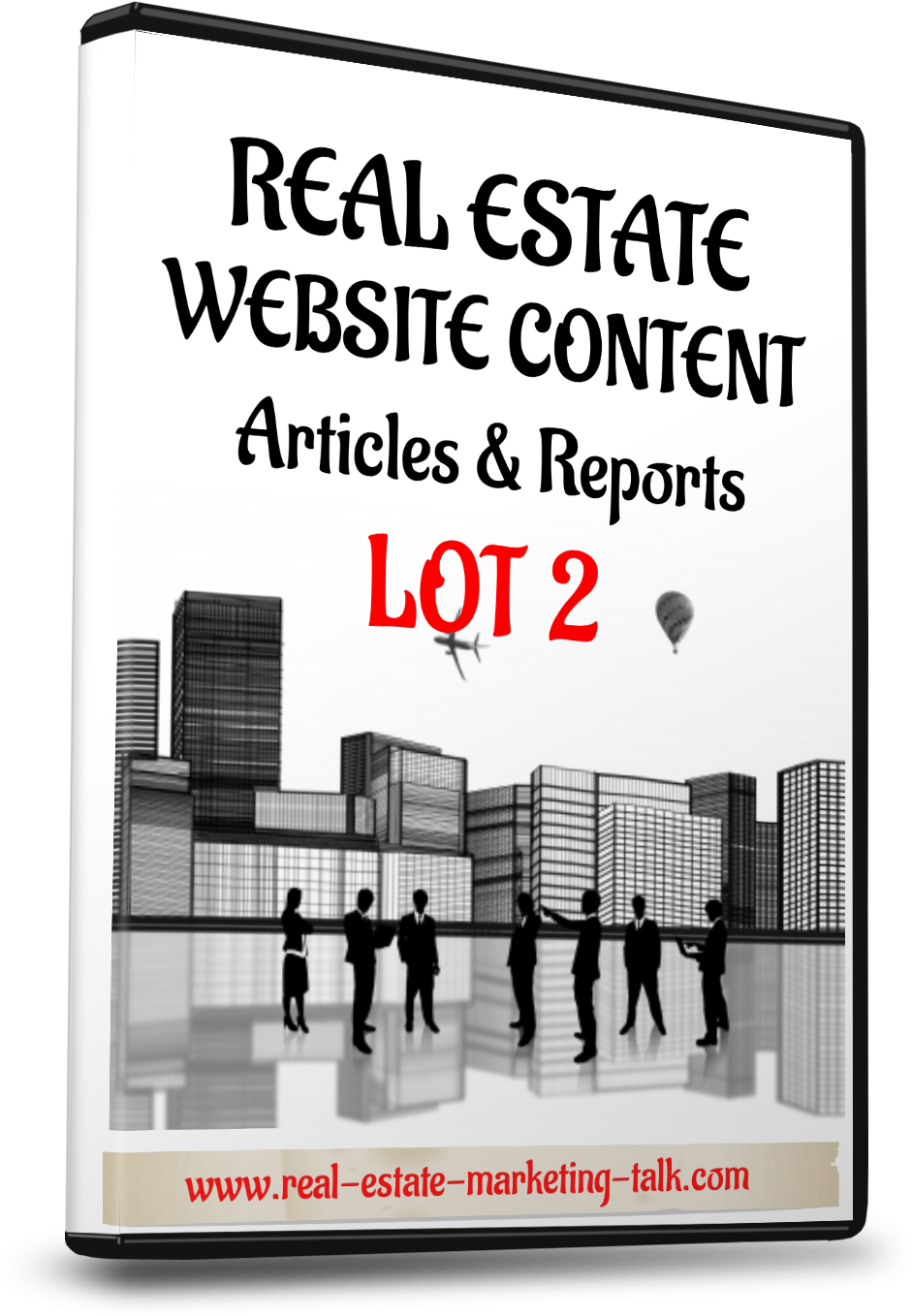 Pre-written Real Estate Articles! If you've done any research at ll you know that Prewritten Articles for Websites, Blogs, Email Marketing and Newsletters can be ridiculously expensive, and that's assuming you can find quality articles that you're willing to consider purchasing.
Here at Real Estate Marketing Talk we've done the hard work of writing content articles that present a truly an exceptional opportunity.  Specifically, we commissioned a stable of talented writers to write, rewrite, screen, scrub, review and make ready our articles below to ensure that it is some of the best content you'll find on the internet and the price right now is ridiculously low given the quality of the articles.   

Here's What's in This Ten Article Pack
Open House: How to Make the Most of the Visit
Step by Step Closing for the Buyer and Seller
Ten Common Mistakes People Make When Buying a Home
Ten No No's for the Home Buyer
Ten Tips for the First Time Home Buyer
The Basics of Buying a Home
The Fixer-Upper How Much Work is Too Much
Title Insurance: Do You Need It?  What is It
Ways to Make the Most of Your House Hunting Trip
Your Mansion Buying a Million Dollar or More Home
This pack is a combination of buyer and seller articles, and is therefore great for offering buying and selling advice.  Here's a case in point.
Have you ever seen a homeowner hold an Open House and the house wasn't ready to be shown?  Sure you have and you've seen how the clutter, mildewed bathrooms and unmowed lawns get in the way.
Take that same house and stage it for showing and you'll get entirely different results.
If you need quality real estate website content articles or reports this is a "must own" bundle of ten articles, each ready for fast start use.
Excerpt From The Ten Tips for the First Time Home Buyer Article
Putting First Things First

1. The first thing a first time buyer should do is talk to a real estate agent about the home buying process. It should not be a sales meeting and you should be able to find an agent that will agree to meet with you about the basics without having to sign a sales agreement with them. If you can't find a good agent to talk to, you might want to consider talking to a loan officer at your bank or a mortgage broker.
2. An equally important tip for a first time home buyer is to get their finances in order before they apply for a mortgage. Order a copy of your credit report so you can check it for accuracy. Mistakes are common and you want to make sure that there is no fraudulent activity. You have the right to dispute errors on your credit report. If you come across something that you know is an error, circle it
Product Rights:
[YES] Can put on your website and/or blog
[YES] Can be edited completely and your name put on it
[YES] Can use to make marketing reports, flyers & brochures
[YES] Can sell
[YES] Can be given away
[NO] Can be added to paid membership sites
[NO] Can be offered through auction sites
[NO] Can be submitted to article directories
[NO] Can sell Resale Rights
[NO] Can sell Master Resale Rights
[NO] Can sell Private Label Rights
Buy Now! $47 $9

Other plr content articles you might like...
Home Page > Real Estate Web Site Content >> Real Estate Articles Lot #2